30 Years - Gorilla Journal Anniversary
Categories: Journal no. 64, Journal no. 65, Success Stories, Organisation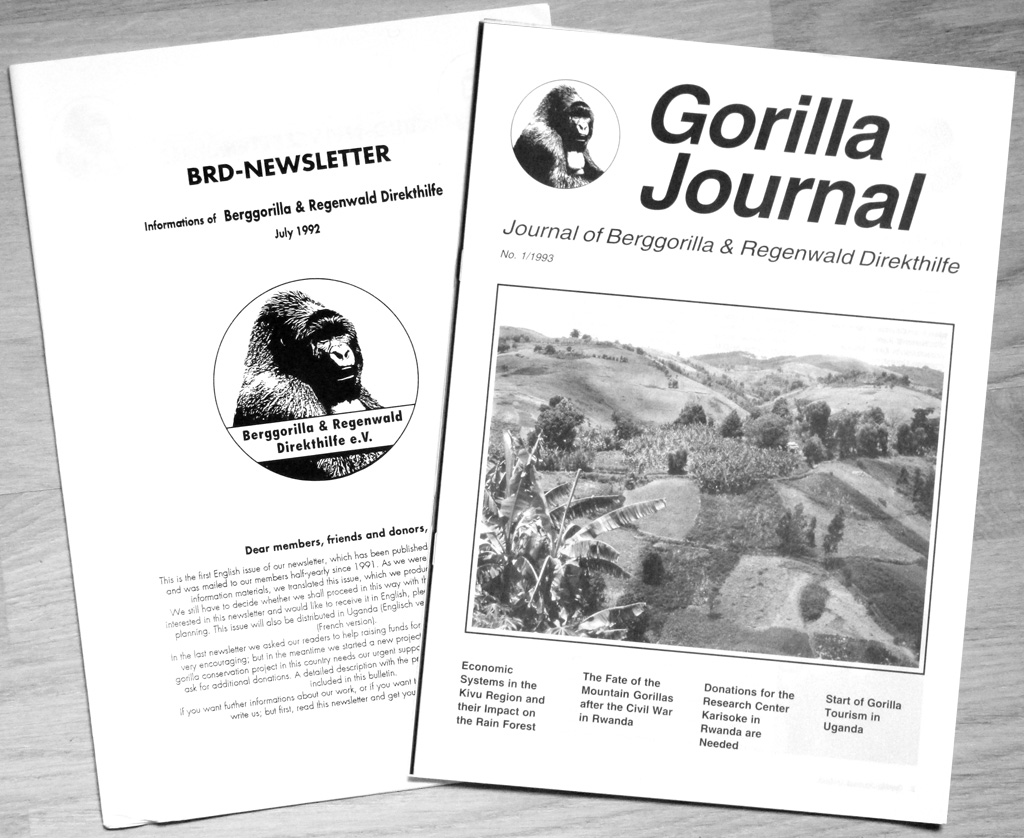 The first English issue of our newsletter was published in July 1992, and we are happy that it has continued to be issued twice per year ever since. We are extremely grateful to the 443 authors who have contributed to the English issues of the journal so far, and to all the photographers and illustrators. Special thanks to the translators, editors and proofreaders, especially Ann DeVoy, Bettina and Andrew Grieser Johns, the late Colin Groves, Callum McCabe and Jennifer Scott.
The very first German newsletter was edited by journalist Rüdiger Braun in 1989, and in 1991 I took over after he was unable to continue. Issues produced during this time were published under the name BRD-Newsletter. In 1993, Edwin Artho took on the task of creating a professional layout for the journal, which was then renamed Gorilla Journal. For the German issue, designer Ulrich Stübler created a new layout with colour on the cover in 1999, but the 1993 layout has been retained for the English issue, providing greater flexibility in terms of the number and length of contributions.
The topics covered in the first English issue continue to be relevant today: general reports on politics in Uganda and Zaire (now D. R. Congo), focused updates on our activities and conservation projects at Mgahinga, Bwindi, Rwanda, Kahuzi-Biega and Maiko, and reviews on interesting subjects, such as the taxonomy of Bwindi gorillas. The first issue also contained a proposal about a gorilla survey conducted in Maiko National Park by Claude Sikubwabo - who now manages our activities in DRC.
The first issue was photocopied, whereas the second one was already offset printed. Erwin Reisch, the director of Gentner Verlag, a publishing company, had also started a tour company in Uganda, and he offered to print the journal through his publishing company. At the beginning the journal was only distributed in printed format. It was sent to members and other people interested in gorillas and their conservation, and was distributed at various events, such as international congresses focused on non-human primate conservation.
For several years there was no final PDF version since photos, illustrations and other images were manually scanned and positioned in the text before printing. This changed in 1999, and since then the PDF files have been available on our website as free downloads. In 2009, Michael Matschuck, the director of the printing company druckpartner, offered to print the journal, and it has been produced there ever since. The print run increased to 2000 copies in 1999 and 2000 but has decreased since then because many readers preferred reading their PDF copies or printing it themselves. In 2021 we only printed 300 copies, as we have been unable to attend conferences in person due to the global COVID-19 pandemic.
For anyone interested in past issues of Gorilla Journal, we have some good news! We are very grateful to Martha Robbins and the Max Planck Institute of Evolutionary Anthropology who offered to scan any issues not yet available as PDFs. Many thanks to Martha and to Claudia Marstaller, who coordinated everything, and especially to Maximilian Groth who did the scanning. We have now uploaded these PDFs to our website. Just check www.berggorilla.org/en/journal/ and you will find them there!
Angela Meder