GRACE Celebrates International Women's Day
Categories: Journal no. 66, Events, People & Gorillas, Democratic Republic of the Congo, Tayna, Grauer's Gorilla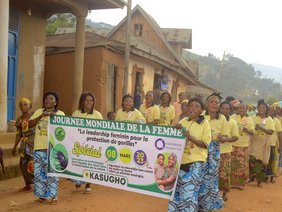 The Gorilla Rehabilitation and Conservation Education (GRACE) Center, located in eastern Democratic Republic of the Congo, is centered on community-led conservation. In addition to caring for rescued Grauer's gorillas and conducting ongoing biodiversity monitoring in the nearby Tayna Nature Reserve, GRACE provides conservation education and sustainable livelihood programs for community members. This includes celebrating important awareness days and hosting special events each year, such as International Women's Day and World Gorilla Day.
International Women's Day on March 8 is considered the most important event of the year at GRACE. In Congo, we partner with local women's groups to host events that celebrate the importance of women in conservation and society.
In 2022, GRACE Educators expanded events from one to two villages for the first time ever. This year, we went even further, with celebrations across three villages on the same day: Katoyo, Kasugho and Kagheri. These three villages are located within 15 km of the sanctuary and residents here are a key audience for GRACE. Their commitment to protecting gorillas and conserving forests, and their ongoing support for GRACE, makes our work possible.
International Women's Day was a huge success in all three villages this year. The celebrations and events spanned two days, March 7 and 8, and included processions, radio broadcasts, tree planting, presentations on conservation, pledge walls, and more. As a result, more than 23,000 people took part in GRACE's International Women's Day celebrations in D. R. Congo. That is more than three times the amount of people (6,700) who participated in last year's events. Here are a few of our favorite highlights from the day.
Children draw female heroes in their lives. On the eve of International Women's Day, GRACE Educators visited a local primary school. They talked with students about why women are essential in conservation and society. Students drew pictures of women heroes in their lives.
Community members plant trees. In Kagheri, men and women joined together on March 7 for one of GRACE's favorite activities … tree planting! Together they planted 841 trees along the road towards Kasone village, seven miles (11.25 km) away. These trees help prevent erosion along the road.
Communities celebrate International Women's Day. In all three villages - Katoyo, Kasugho and Kagheri - community members celebrated on March 8 with:
processions (parades) through the village
speeches from community leaders and GRACE staff
poems
skits
and more
In Kagheri, these activities were especially exciting because it was the first International Women's Day co-hosted by the Kagheri Women's Association and GRACE.
Pledge walls inspire conservation communities. "Pride walls," or public pledge walls, are one way GRACE aims to promote community pride in the unique wildlife of eastern Congo - including Grauer's gorillas. GRACE Educators pose questions to the community and individuals can choose to participate by answering one or more of the questions on the wall. The responses create a sense of collective commitment to conservation in each village. They also help give GRACE Educators insight into how people think and feel about conservation, gorillas, and more.
International Women's Day on the Radio Tayna. GRACE Educators regularly produce informational reports, dramas, and even songs for the radio.
Led by GRACE Educator Gracianne, women shared their thoughts and spoke about the event during a special broadcast for International Women's Day on Radio Tayna. The radio program is estimated to reach 15,000 people in the greater Tayna area.
Women build a fuel-efficient stove. In Katoyo, women who previously completed GRACE's fuel-efficient stove training conducted their own mini-workshop. They showed other women how to press bricks from local materials and construct a fuel-efficient stove.
Designed in collaboration with local women's groups, this stove uses less wood and produces less smoke than traditional three-stone stoves used in the region.
In early 2023, GRACE Educators will conduct a full-scale fuel-efficient workshop in Kagheri for the first time.
Celebrating with action: a village cleanup. In the Kasugho market space, men and women came together to conduct a village cleanup. They collected waste and buried it in a public dustbin. This helps prevent waste from entering the forest.
International Women's Day inspires men and women alike
International Women's Day is more than just a celebration. It helps to emphasize the importance of women in conservation and in communities in D. R. Congo. One powerful example of the impact of International Women's Day occurred in Kasugho, where male government officials presented members of the women's association with a symbolic cloth. This cloth represented a commitment to unity and a joint effort to support women and girls in the community.
As we work to build a more equitable and inclusive world, it is important that GRACE continues to recognize the important role for women in the community and conservation. We are proud to report that International Women's Day celebrations were so successful that community members are already planning for next year's activities!
Rory Keating, Laurie Cummins, Honoré Kambale Masumbuko, Josias Kambale Kamaliro and GRACE DR Congo Education Team