GRACE Celebrates World Gorilla Day
Categories: Journal no. 65, People & Gorillas, Democratic Republic of the Congo, Grauer's Gorilla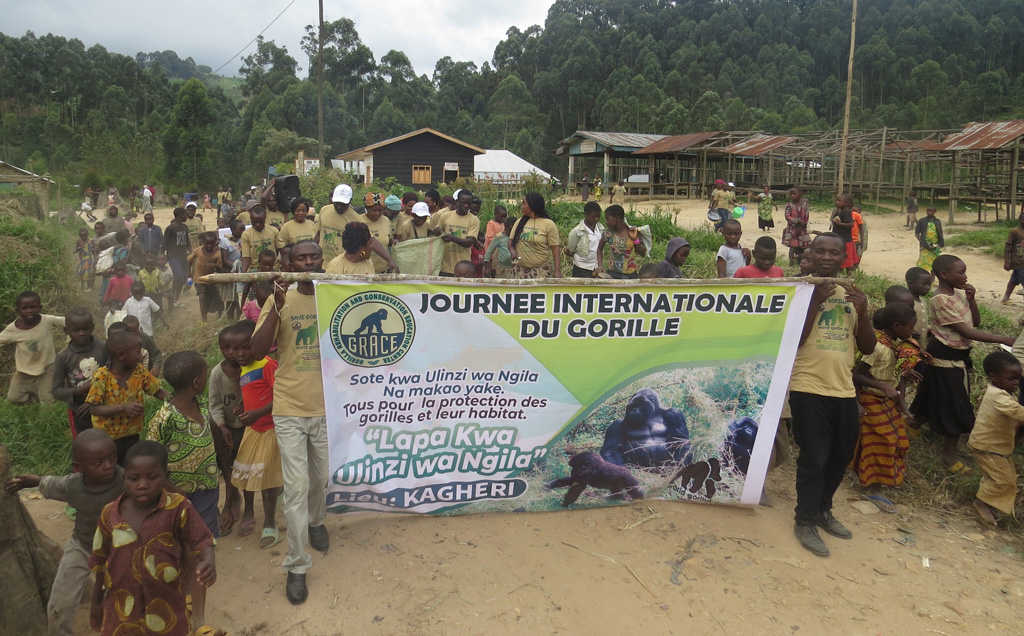 It was early morning on 24 September, 2022, but the GRACE Education Team was already on the move. They had been planning for weeks: Zoom meetings, community invitations, hours of preparation, and even a new video about gorillas led to this day. Now, it was "go" time and the team was headed out into communities near GRACE to start the celebrations.
After all, 24 September is a big deal at GRACE ... it's World Gorilla Day! Initiated by the Dian Fossey Gorilla Fund, World Gorilla Day brings together people from around the world to raise awareness of gorillas and their conservation. For GRACE staff, who dedicate their passion and purpose to caring for rescued Grauer's gorillas daily, there is so much to celebrate.
It is also an important time to recognise the communities living near GRACE which help make our gorilla rehabilitation and conservation work possible. Therefore, they are the first to be invited to celebrate with us every World Gorilla Day. This year, GRACE Educators expanded their festivities to three villages: Katoyo, Kasugho, and Kagheri. More than 11,000 people came to learn about and take conservation action for Grauer's gorillas and the forest.
In Katoyo and Kasugho, over 4,000 people, including GRACE staff and their families, gathered to celebrate gorillas. GRACE Educators Gracianne Basyanirya and Guy Simisi (Sims) Mumbere led the celebrations in these two villages. They organised speeches, songs, processions, educational presentations and more. According to Sims, "to see the local authorities, kids, and women all participating together on this day - seeing everyone dancing and singing for gorillas - really made me happy."
Students from GRACE Conservation Clubs read stories and poems to the group. They shared their thoughts on why gorillas are important, how people can protect gorillas, and what makes the community-managed Tayna Nature Reserve near GRACE special. Everyone in the audience cheered as these young conservation heroes spoke.
Led by GRACE Educators, community members also shared their dedication to gorillas and conservation on the local radio station, Radio Tayna. Their voices carried throughout the Tayna area, reaching thousands of listeners on World Gorilla Day.
Gracianne and Sims led each village in a community-wide cleanup. Together, they collected over 1,000 pieces of rubbish (including plastic bottles and bags) from homes and common areas and brought it to a community disposal site. This reinforced the importance of working together to clean up the environment. After so much planning, Gracianne was "proud that the team brought World Gorilla Day celebrations to three villages at the same time."
In all three villages, over 300 community members participated in a Pride Wall where Educators posed three questions: 1) "What do you know about gorillas?" 2) "How do you feel about gorillas?" and 3) "What have you done to protect the forest for people and gorillas?" Community members shared their responses by writing answers on the Pride Wall. This allowed people of all ages and backgrounds to express their ideas and share how they take action to protect gorillas.
GRACE Educators worked with local officials, women's groups, churches, community associations and students from 22 schools to make these expanded celebrations possible. GRACE Education Manager Honoré Kambale Masumbuko said, "working in collaboration with local associations and communities helped us reach our goals." This was especially true in Kagheri, where GRACE Educators celebrated World Gorilla Day for the first time.
A drama about gorilla conservation presented in the center of Kagheri drew in large crowds to watch. Later that day, a film created by the GRACE Education Team taught more than 5,800 people about gorillas. For some in attendance, this was their first time seeing footage of Grauer's gorillas. Brochures were also distributed for people to learn more about gorillas and GRACE.
In partnership with GRACE, the community organisation SPEED-RDC led a procession for gorillas through the center of Kagheri, getting people of all ages involved in the celebration. A representative from Tayna Nature Reserve was invited to speak to the residents of Kagheri and answer their questions about gorillas and the forest. This was an important moment for building trust and understanding between the community and the different conservation groups working in the region.
Asked to share his favourite highlight from World Gorilla Day, GRACE Communications Manager Josias Kambale Kamaliro said, "all of the community - including the soldiers, local leaders, teachers - everyone was involved in the activities throughout Kagheri. Since that day, people have known what GRACE is, where we are located, and what we do. They have promised to welcome us for future activities in Kagheri."
As deforestation and habitat loss continue to threaten Grauer's gorillas in eastern Democratic Republic of the Congo, GRACE Educators are working to address these threats by bringing conservation education to more communities. Honoré explained: "Kagheri is a new area for us, but it was memorable and something we have been thinking about for a long time. Now, the community here really respects and understands our mission and message as GRACE Educators. This event gave us roots in Kagheri and will help us continue to grow into additional villages."
Located in a biodiversity hotspot and one of the last remaining strongholds for Grauer's gorillas, GRACE is on a mission to inspire 100,000 hearts to take conservation action. Thanks to the dedication of the GRACE Education team and the support of local communities, we are proud to report that over 11,000 people (including 5,800 new contacts) were connected with Grauer's gorillas this World Gorilla Day! The GRACE Education team is already planning for next year's events, with a goal to expand the celebrations even further. Their commitment to community-led conservation is making a difference for people and Grauer's gorillas in eastern D. R. Congo.
Laurie G. Cummins and Honoré Kambale Masumbuko
GRACE's 2022 World Gorilla Day celebrations would not be possible without the planning, coordination and support of the entire GRACE Team, including: Gracianne K. Basyanirya, Guy Simisi Mumbere, Josias Kambale Kamaliro, Faustin Muhindo Kibwana, Jackson Kabuyaya Mbeke, Katie Fawcett, Tommi Wolfe, and the communities of Katoyo, Kasugho and Kagheri.