Understanding Visitors at Tourist Sites to Protect Great Apes from Disease
Categories: Journal no. 65, Tourism, Diseases, People & Gorillas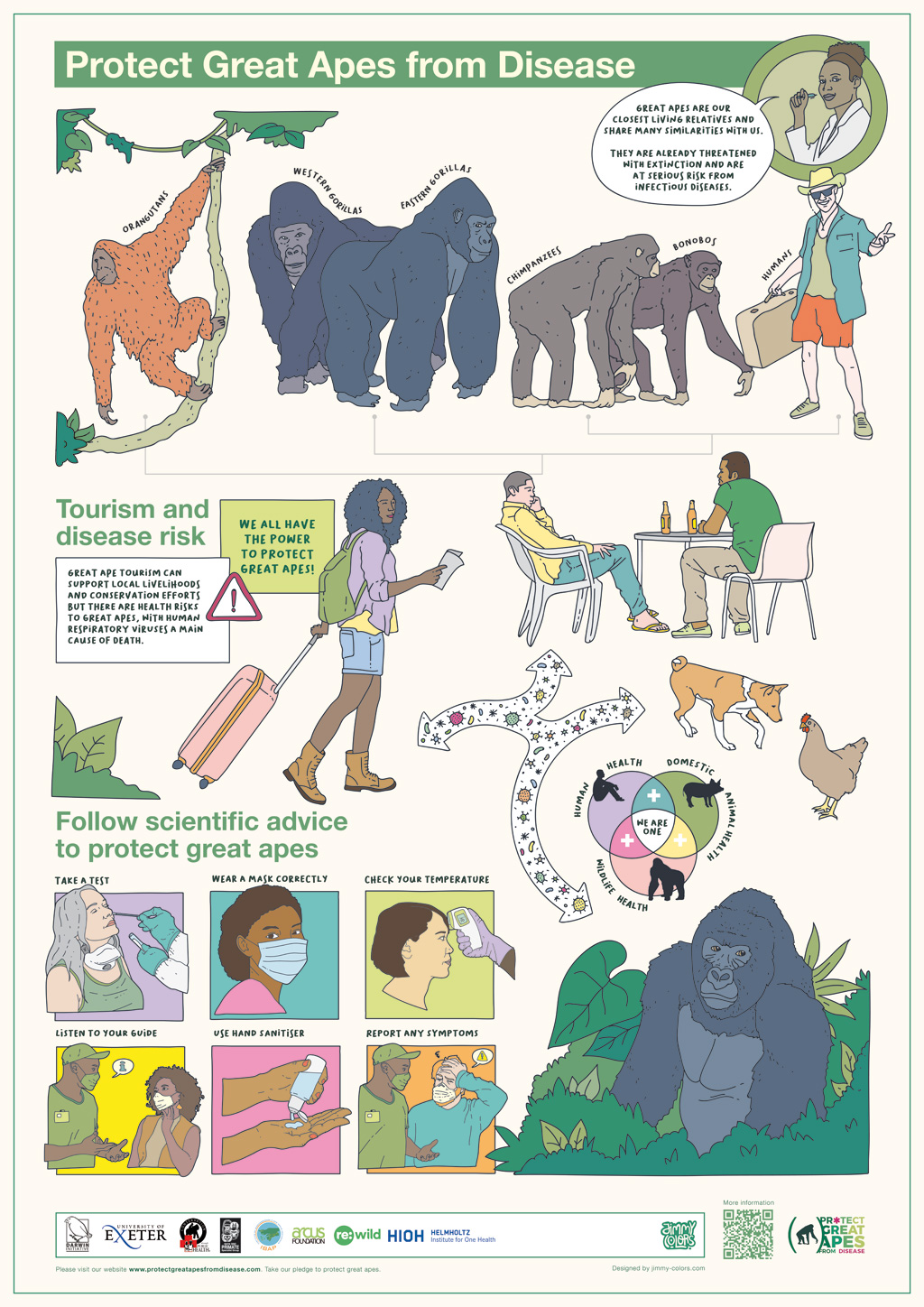 Nonhuman great apes (bonobos, chimpanzees, eastern gorillas, western gorillas and orangutans) are particularly vulnerable to infectious diseases from humans because of our close genetic relatedness. This vulnerability is highest in close-contact activities such as tourism and research. While these activities can assist conservation efforts, there are also well-documented health risks. With the COVID-19 pandemic reviving concerns for disease transmission, the "Protect Great Apes from Disease" initiative was born (see www.protectgreatapesfromdisease.com).
At an early stage of the pandemic (pandemic announced 11 March 2020 and data collected from 19 January to 27 February 2021), our team aimed to develop visitor education and guide training materials for use in African sites with great ape tourism (where you can find all great apes except orangutans). To do so, we first conducted research focused on these sites and explored what factors seem important to explain visitors' compliance with disease mitigation measures. For example, we wanted to characterise practices during past visits (e.g. if people think visitors are generally compliant with recommendations), assess visitors' willingness to comply with disease mitigation measures (e.g. would they wear a facemask during trekking to protect great apes?) and explore what factors should be promoted to increase their willingness to follow recommendations (e. g. were those more compliant more likely to be aware about potential impacts?).
To answer these questions, 989 past and potential future visitors from 58 countries took our online questionnaire adapting the Health Belief Model, one of the most commonly used public health frameworks for understanding why individuals may or may not act in the face of a threat to health.
Among the 989 survey participants, tourism was generally perceived to pose health risks to the great apes, but also contribute to their conservation. When considering visitor expectations at great ape tourism sites (i.e. duration, distance, photographs and use of personal protective equipment - PPE), 32-41 % of survey participants valued being close to great apes, as well as spending a long time with them.
Survey participants reported a high degree of willingness to undertake multiple protective measures before, or when, visiting great apes. At this early stage of the pandemic when vaccinations were not yet widely available, respondents expressed less willingness to comply with getting vaccinated against COVID-19 before visiting great apes. They also expressed less willingness to wear a facemask during trekking (but were willing to wear a facemask when viewing the apes) and quarantine after international travel before visiting great apes, with 5-15 % of them reporting no/low willingness to comply (and 5-9 % being neutral). Self-reported barriers to complying with mitigation measures related mainly to: difficulties in implementing quarantine (e. g. excessive costs and delays); difficulties in wearing a mask during trekking (e. g. heat and humidity); poor compliance and enforcement (e. g. lack of standardisation across areas); uncertainty in planning and diagnostic (e. g. disappointment due to missing out and difficulties in distinguishing symptoms); limited access to resources (e. g. COVID-19 tests, vaccines); and concerns about physiological needs.
By obtaining feedback from the visitors to wild African great ape tourism sites we were able to identify ways of improving measures to reduce disease transmission. This is important not only for COVID-19 but other infectious diseases too, particularly at early stages of future pandemics when information is generally limited but preventive action is required. In the face of growing threats from future pandemics, we must minimise disease transmission while ensuring that tourism and research promote long-term support for conservation of great apes and their habitats as well as maximising benefits for local communities.
Ana Nuno, Chloe Chesney and Kimberley J. Hockings
Original publication
Nuno, A., Chesney, C., Wellbelove, M., Bersacola, E., Kalema-Zikusoka, G., Leendertz, F., Webber, A. D., Hockings, K. J. (2022): Protecting great apes from disease: Compliance with measures to reduce anthroponotic disease transmission. People and Nature 4 (5), 1387-1400