Banro's Activities in the Itombwe Nature Reserve
Categories: Gorilla Journal, Journal no. 57, Mining for mineral resources, Democratic Republic of the Congo, Itombwe, Grauer's Gorilla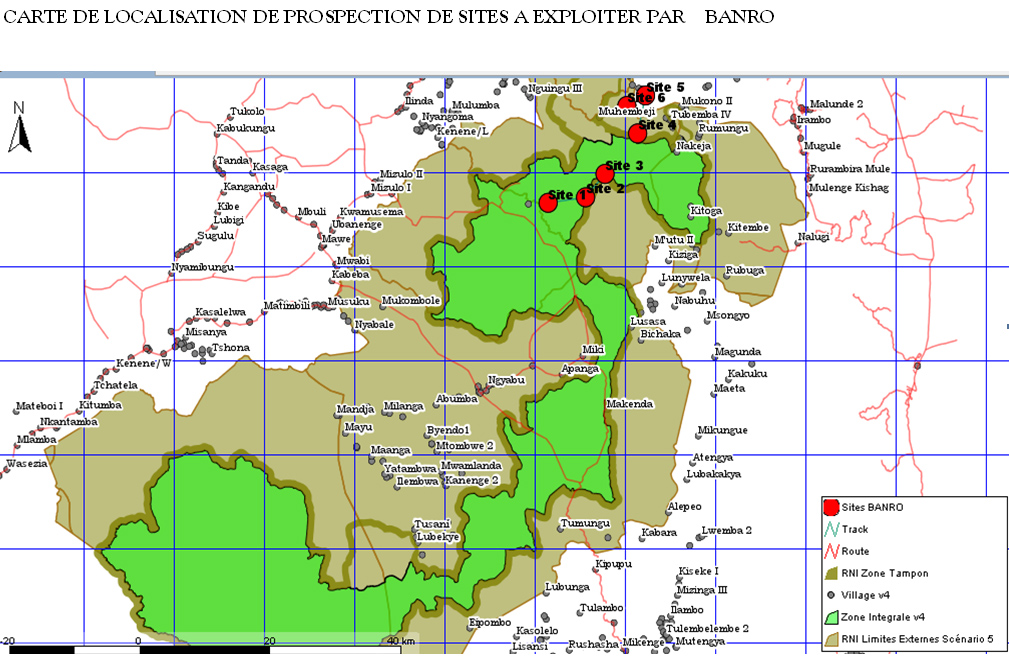 After investigation and verification on site, the management team of Itombwe Nature Reserve confirms with regret that the company Banro has not only carried out exploratory work and collected samples, but has put up installations within the reserve in the area of the Luindi chieftainship (indicated on the map).
This is in spite of Banro's participating in meetings with WWF in Kinshasa and recommendations made during meetings between Banro and the South Kivu civil society in previous years.
Itombwe Nature Reserve was established by Ministerial Decree no. 038/CAB/MIN/ECN-EF/2006 dated 11 October 2006. This protected area is located within the Itombwe Massif. It is of national interest and is classified as IUCN category VI. It aims to protect the landscapes and natural habitats that are most representative and important from the point of view of biodiversity. The Itombwe Massif is one of the sites prioritized for their biological importance both within the Albertine Rift and at a global level. Pre-dating the above, Ministerial Decree no. 01/008/CAB/GP . SK of the Governor of South Kivu Province, dated 25 February 1998, had already expressed major interest of the political authority - at a time of war in the east of the Democratic Republic of the Congo - and outlined conservation measures for the fauna and flora of the Itombwe Mountains.
Provincial Decree no. 16/026/GP/SK, dated 20 June 2016, officially recognized the physical borders of the Itombwe Nature Reserve with an area of 5,732 km² and a perimeter of 568 km of external boundaries. The boundaries were identified through a participatory process with the local stakeholders.
Jean Claude Kyungu
Violation of articles 25 and 74 of Law 014/003 dated 11 February 2014, relating to the prohibition of any activity that is incompatible with conservation and outlining infractions and penalties in case of mining in a protected area.