Strengthening Transboundary Conservation of Cross River Gorillas
Categories: Journal no. 55, Protective Measures, Cameroon, Nigeria, Cross River National Park, Takamanda, Cross River Gorilla, Gorilla Journal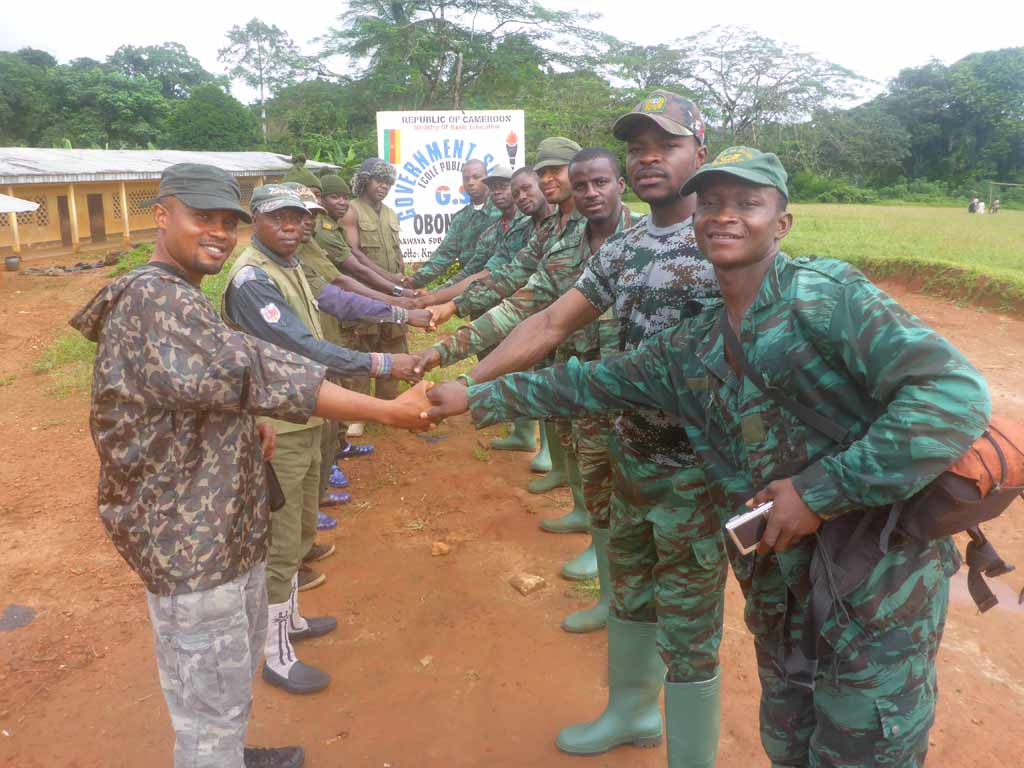 Restricted to the rainforest region along the border between Nigeria and Cameroon, the Cross River gorilla Gorilla gorilla diehli is Africa's most threatened ape, with the total remaining population estimated to be less than 300. With a transboundary range, strengthening cooperation between the two range countries is important for improving their conservation management. About one-third of the known population of these gorillas lives in the transboundary area between the Okwangwo Division of Cross River National Park in Nigeria and Takamanda National Park in Cameroon which represents the largest and most important site for conservation of this western gorilla subspecies.
To mitigate threats such as cross-border poaching and logging as well as illegal transboundary trade in bushmeat, timber and non-timber forest products (NTFPs) collaboration between the two protected areas is essential. Improving transboundary collaboration can also strengthen national commitment to conservation when seen as a component of international cooperation. Transboundary cooperation between Nigeria and Cameroon has been strongly promoted in recent years with regular joint anti-poaching patrols in the Okwangwo-Takamanda area to deal with poachers and loggers operating across the international border, annual transboundary planning workshops, exchange visits organized to facilitate and enhance information sharing.
A framework cooperation agreement has been drafted between the governments of Nigeria and Cameroon for the joint implementation of transboundary conservation and research activities. A process is ongoing to create a UNESCO Transboundary Biosphere Reserve (TBR) and a World Heritage Site (WHS) which will include the Okwangwo Division of Cross River National Park and Takamanda National Park. To facilitate this process a transboundary working group has been established, composed of stakeholders from Cross River National Park in Nigeria and Korup and Takamanda National Parks in Cameroon, as well as other relevant ministries and parastatals in Nigeria (Federal Ministry of Environment; National Commission for Museums and Monuments - a parastatal under Federal Ministry of Information and Culture) and Cameroon (Ministry of External Relations; Ministry of Economy, Planning and Regional Development; Ministry of Scientific Research and Innovation; Ministry of Arts and Culture Cameroon).
The working group met in May 2017 in Nigeria to discuss progress on the TBR and WHS nomination processes, with a particular focus on the need for dedicated funding for the TBR process and the need to fund community sensitization and consultation activities in Nigeria. In Cameroon these activities have been supported by the KfW funded Programme for the Sustainable Management of Natural Resources (PSMNR) in the South West of Cameroon, while no similar programme exists on the Nigerian side. Representatives from the German embassies in Abuja and Yaoundé, as well as the KfW Country Director for Cameroon were present at the meeting. This was the fourth meeting of the working group facilitated by the Wildlife Conservation Society (WCS) Country Offices in Nigeria and Cameroon.
The first such meeting took place in Bamenda, Cameroon, in March 2016, resulting in identification of shared management objectives and a proposed transboundary management structure and a tentative zoning plan. The second meeting took place in Calabar, Nigeria, in June 2016 where it was agreed to involve potential donor agencies in the next working group session and to pursue UNESCO World Heritage Site status in parallel with submitting nomination forms for the Biosphere Reserve process. Establishment of a joint coordination structure to steer the implementation of the Transboundary Biosphere Reserve nomination process was recommended, as well as a committee to coordinate management oriented research activities.
The third meeting took place in Yaoundé, Cameroon, in November 2016, at which the participants revised the proposed transboundary management structure and the proposed zonation of the Transboundary Biosphere Reserve.
Work is now on-going to develop a transboundary protected area management plan drawing upon the outputs of these working group meetings as part of the UNESCO nomination process.
Inaoyom Imong and Andrew Dunn