One of the Biggest Ape Traffickers of Africa Arrested
Categories: Gorilla Journal, Journal no. 54, Success Stories, Threats, Other countries, Western Lowland Gorilla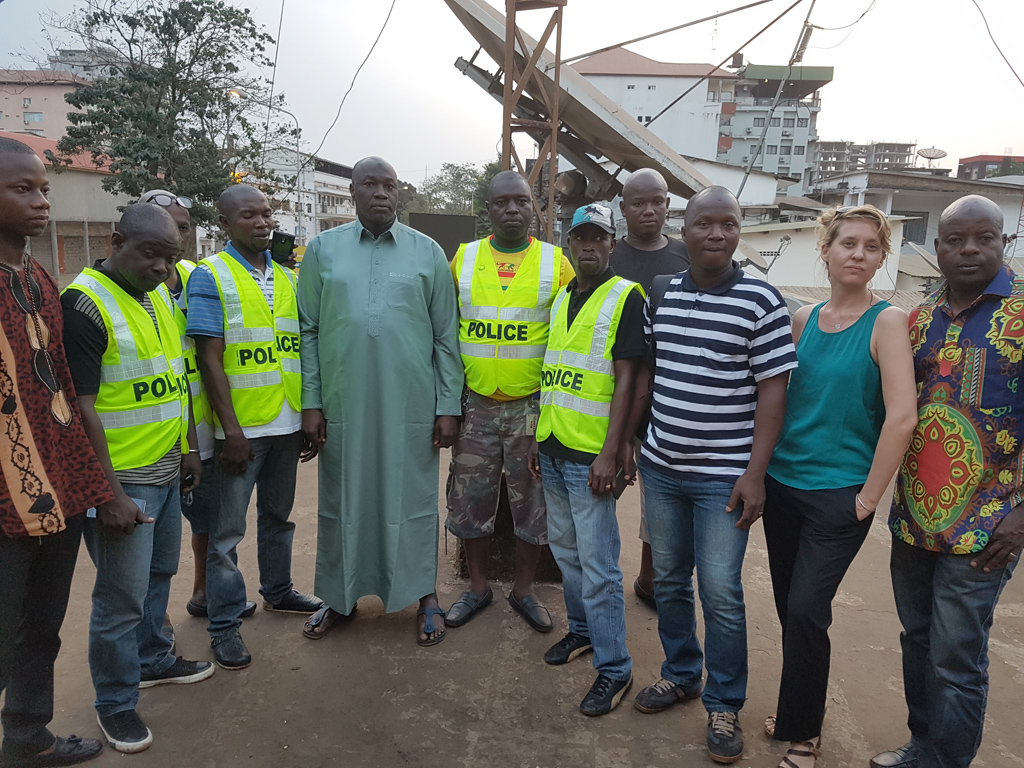 Abdourahamane Sidibé, a major wildlife trafficker of Guinean nationality, was arrested on 18 February 2017 in Conakry in a special operation by Interpol NCB and the NGO WARA via its EAGLE-Guinea project. One of the most important ape traffickers on the African continent, Abdourahamane Sidibé was head of a crime family which had been operating for over 30 years.
In July 2016, Abdourahamane Sidibé was condemned in absentia to 5 years in prison at the same time as his son Abdoul Salam and the former corrupt CITES chief of Guinea Ansoumane Doumbouya, who was arrested in August 2015 following a WARA-EAGLE investigation. For years, Ansoumane Doumbouya had fraudulently issued CITES permits to Abdourahamane Sidibé, facilitating the illegal export of many endangered species including 130 chimpanzees and 10 gorillas to China, using CITES permits which falsely stated that the apes were bred in captivity.
The WARA investigation had continued tracking the Sidibé family for 5 years, as it was spread across the continent creating a vast and effective criminal network. Finally, the team managed to net the father and head of the criminal network. Abdourahamane Sidibé had spent the last year hiding in several African, Arab, and Asian countries. His arrest, of one of the most important traffickers of wildlife and great apes on the African continent, is a landmark in the fight against ape trafficking.
Abdourahamane Sidibé had been under an international arrest warrant issued by the Guinean Judiciary. An Interpol red notice was issued a few weeks before the arrest. He was hiding outside of Guinea since his conviction in absentia in July 2016. During our investigation, we learned that he was to pass through Guinea. One Saturday night we went to his home with the Interpol team, arrested him, and then brought him directly to Conakry Central Prison.
Ansoumane Doumbouya had been convicted on the basis of overwhelming evidence and after issuing a CITES permit to a trafficker just before his arrest, even though he had no longer been a CITES official since 2013 and Guinea was suspended by CITES. During his trial he always denied having issued CITES permits to Abdourahamane Sidibé for the export of chimpanzees to China, despite the fact that hidden files were found on his computer containing these permits. After his arrest, Abdourahamane Sidibé confirmed that he received all these permits from Ansoumane Doumbouya.
The Sidibé network has been active in international trafficking for 30 years, amassing a lot of money; they exported many protected animals worldwide in violation of national laws and the CITES Convention, including chimpanzees, manatees, many other primates and birds.
Only a few weeks after the father's arrest, the criminal family was hit again: on 7 March Abdoul Salam Sidibé was arrested in Conakry. He is the son of Abdourahamane Sidibé. Abdoul Salam is a key element of the Sidibé network, and an international arrest warrant had been issued against him.
For a few years Abdoul Salam had been living in Ghana and his father in Ivory Coast, and they had both travelled to many African, Arab and Asian countries. Following their conviction, they were on the run abroad knowing that they were the subject of an arrest warrant.
After the father had been arrested, we quickly travelled to Ghana with an agent of Interpol Guinea NCB to organize the son's arrest and extradition in collaboration with the CID of Ghana Police. Because of our long-term investigations, we knew his habits and our investigators located him on the spot. Unfortunately, he fled by road to Burkina Faso and Mali, heading for Guinea; finally, Abdoul Salam was arrested in Conakry and brought directly to the central prison.
In 2013, when we started our investigations on Abdoul Salam, he was trying to get an order from a buyer to sell a manatee. He worked with Balla Doumbouya, the boss of DOUMBOUYA PET COMPANY IMPORT-EXPORT, who was on the run after the arrest of the former CITES chief; we located and arrested him in April 2016. A total of 5 international traffickers were arrested and convicted in this judicial case: Ansoumane Doumbouya, Thierno Barry, Balla Doumbouya, Abdourahamane Sidibé and Abdou Salam Sidibé.
For a long time, Guinea has been a central junction in the organized illegal trade in apes. WARA, the group behind the arrest, worked hard for 6 years with the Guinean authorities to put behind bars the biggest of these traffickers and the highest corrupt officials that helped him. But there is still much more to be done. Several organized criminal families are driving great apes to extinction.
Charlotte Houpline
The <link www.wara-enforcement.org _blank external-link-new-window "Opens external link in new window">WARA</link> Conservation Project was founded and is directed by Charlotte Houpline and has active projects in Guinea, Senegal and soon in Ivory Coast. An EAGLE Network member, WARA is a wildlife law enforcement NGO that works with governments to investigate, arrest, prosecute and imprison major wildlife traffickers.
<link www.EAGLE-enforcement.org _blank external-link-new-window "Opens external link in new window">EAGLE</link> - Eco Activists for Governance and Law Enforcement - is a network across Africa of members who are replicating effectively a program and operational model to undertake wildlife law enforcement. The EAGLE Network currently operates in 9 African countries and keeps expanding. It is credited with bringing more than 1,500 major wildlife traffickers to arrest and imprisonment and is now doing that at a rate of one major trafficker arrested, prosecuted and imprisoned per day.