The 2011 Kwita Izina
Categories: Tourism, Journal no. 43, Gorilla Groups, Rwanda, Volcano National Park, Mountain Gorilla, Gorilla Journal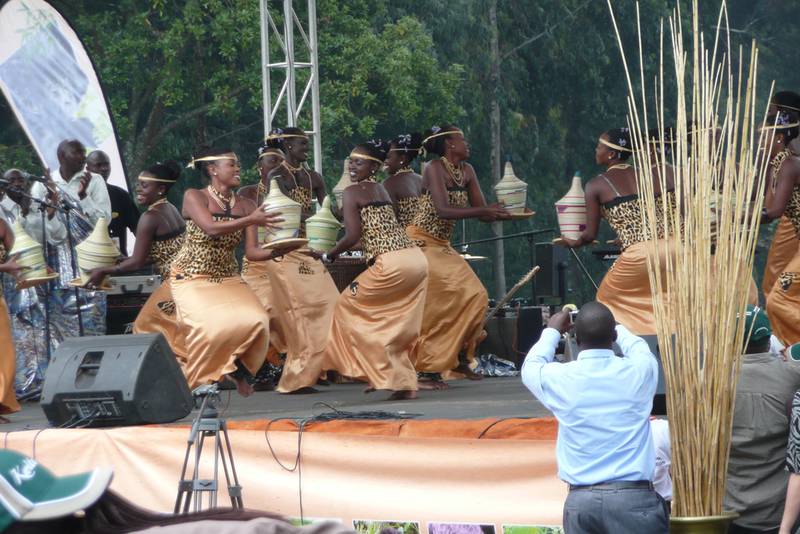 Rwanda demonstrates how much the country values its few remaining mountain gorillas. Every year, Kwita Izina is celebrated in June. All mountain gorillas born in Rwanda during the previous year are given names in this solemn naming ceremony. This occasion is celebrated in the same way as the naming of a human baby when it is accepted into its Rwandan family. In the gorillas' case, the occasion has become a national event. Guests of honour are invited (in 2010 it was Paul Kagame and his wife, in 2011 it was Prime Minister Bernard Makuza and his wife), and in their presence and the presence of sponsors and guests from around the world Rwanda celebrates "its" mountain gorillas. This is a true contribution to gorilla conservation – the event draws the world's attention to the situation of the last of the "gentle giants". On June 18th, 2011, the 7th Kwita Izina took place. I was there as tour leader for Windrose Finest Travel. It was quite an experience!
In the morning, we arrived at the festive area around the cultural village in Kinigi and were taken to the marquee. The atmosphere was already memorable, but it turned truly solemn when the national anthem was played. Among the spectators assembled at the open-air venue were many Rwandans in military and ranger uniforms. Everybody had a view onto a roofed stage, where the programme of speeches, music and dances organised by the Rwandan Development Board unfolded. The enthusiasm of the dancers was remarkable.
The sponsors finally arrived in their Kwita Izina gowns and the name-giving ceremony of the young mountain gorillas began. A total of 22 "newcomers" were welcomed, including twins in the Hirwa group. Every sponsor explained why "his" or "her" gorilla had been given its particular name. Beforehand, Kwita Izina sheets with pictures of the young gorillas had been distributed to the spectators. Anybody who wanted to wrote the name of the new arrival underneath his or her picture.
Spirits improved even further with another piece of entertainment: the well-known Ugandan pop-star Bebe Cool involved the audience in his rousing show.
Lunch was finger food and drinks. During this break we were able to meet a number of interesting participants. When we left the Kwita Izina area, however, we noticed many local people standing around on the periphery – which demonstrated once again that only people with money can afford gorilla trekking and the participation in such an event. Nonetheless, without tourism revenue there would not be any gorilla conservation, and if you are a tour guide with a biological focus you have thought about this issue very often.
But the local population also had a chance to celebrate: on the evening before the "official" Kwita Izina they celebrated in a marquee set aside for that purpose – and they celebrated as only locals can. We were there, together with a few other foreigners: the local celebration drew us in, too!
Gabriele Müller-Jensen