New Gorilla Census in Kahuzi-Biega 2010
Categories: Journal no. 42, Censuses, Democratic Republic of the Congo, Kahuzi-Biega, Grauer's Gorilla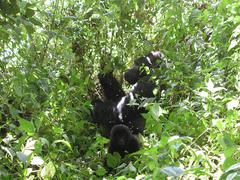 A census team led by the Wildlife Conservation Society and the Institut Congolais pour la Conservation de la Nature (ICCN) in Kahuzi-Biega National Park in the Democratic Republic of the Congo announced that the population of Grauer's gorillas in the highland sector has not only survived, but has even increased since the last census.
The census, made in September-October 2010, revealed the presence of 181 individual Grauer's gorillas, up from 168 individuals detected in the same sector in 2004. Although the census team were unable to survey the entire highland sector, they still recorded more gorillas.
"We had several close calls with armed militias during the survey," said Deo Kujirakwinja, WCS's Albertine Rift Coordinator in Congo. "Thankfully, no one was hurt, and our census result is positive news for the conservation community." The lowland sector is even more insecure; it has been largely inaccessible to researchers due to the frequent presence of militia.
From a WCS press release