Gorilla Tourism on Mikeno
Categories: Gorilla Journal, Journal no. 39, Tourism, Protective Measures, Democratic Republic of the Congo, Mikeno, Mountain Gorilla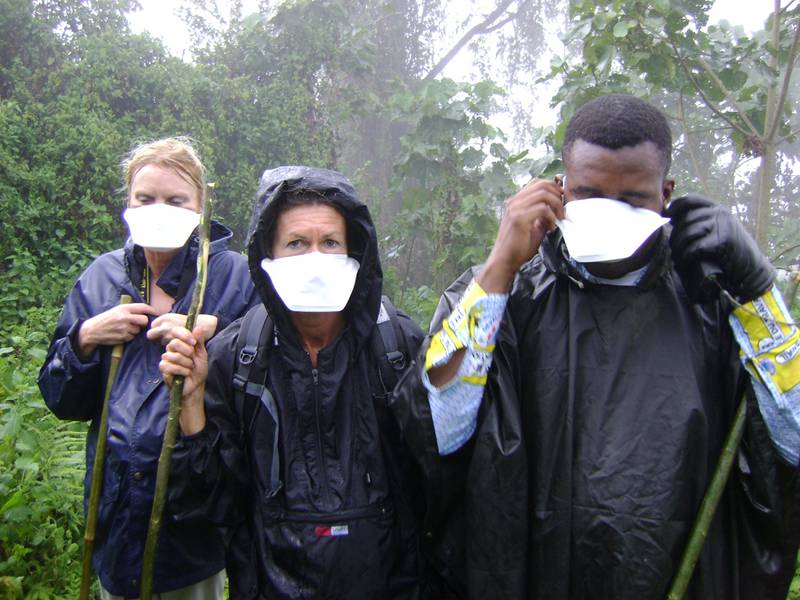 Mountain gorilla tourism brings much needed revenue to the Virunga National Park for the conservation effort - but it also brings the threat of disease. Humans and gorillas share so much DNA, that we can easily pass on our viruses and diseases to these animals that we are struggling to protect. When a tourist, a ranger or anyone is visiting a family of gorillas, they should stay at least 7 m away from the animals. But sometimes the gorillas themselves, out of sheer mischief or curiosity, come closer.
So when we re-lauched tourism earlier this year, based on the advice of MGVP (Mountain Gorilla Veterinary Project)http://www.gorilladoctors.org/, we asked tourists to wear masks. It was a good decision. Tourists have been incredibly supportive and recognize the importance of protecting the gorillas for generations to come.
Eddy Mbuyi
This article was originally published in the blog of the Virunga National Park on October 3th, 2009.