Club Ebobo
Categories: Journal no. 36, Protective Measures, Other countries, Western Lowland Gorilla, Gorilla Journal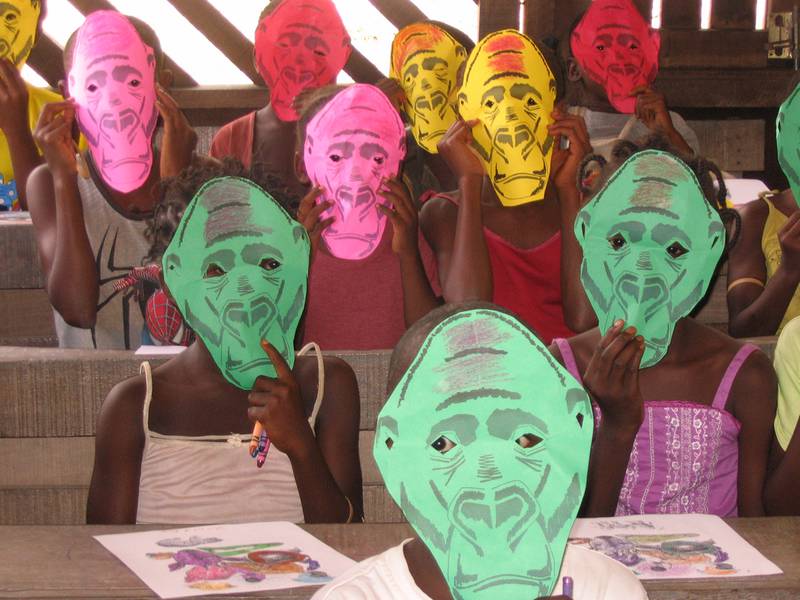 Gorilla populations throughout Western Equatorial Africa are rapidly declining. Illegal bushmeat hunting and the lack of law enforcement are seen as the main reasons for the conservation crisis western gorillas are facing. Furthermore the commercial bushmeat trade (particularly when primates are involved) is a serious threat to human health because it exposes people to emerging infectious diseases, such as Ebola hemorrhagic fever.
A variety of actions is therefore needed to mitigate the threats western gorillas and other large mammals are facing. Immediate responses include conservation activities such as anti-poaching patrols, enforcement of laws and the provision of alternative protein resources, and longer term mitigation actions address the problems gorillas will face in the coming years caused by human population growth or habitat loss and disturbance.
Conservation education is likely to play a vital role in the list of actions needed to guarantee that gorilla populations throughout Western Equatorial Africa remain viable, and this includes awareness campaigns in the short and the long term.
Immediate actions must involve awareness and outreach campaigns about current wildlife laws, directed towards law enforcement offcials - police, judges, and customs-officers. Further, both rural and urban people need to be informed about these laws, about the ethical, cultural, economic and ecological importance of gorillas, and the risks of diseases resulting from the consumption of primate bushmeat. Such activities can be conducted through formal and informal meetings, exhibitions, poster campaigns, or broadcasting in local radio and television stations, and work best if they are coordinated between different conservation organizations (local and international), logging companies and the wildlife authorities. At the same time long term education programs have to be put in place with the aim of changing the attitudes of local people to the value of wildlife. If we want to ensure the survival of gorillas in the future we have to address our conservation effort to the future generation - the children.
The Mbeli Bai Gorilla Study is part of the <link http: www.wcs-congo.org _blank external-link-new-window>Nouabalé-Ndoki Project, a collaboration between the Wildlife Conservation Society (WCS) and the Government of Congo, which strives to maintain strong links with the local communities living around the Nouabalé-Ndoki National Park in northern Congo through a participatory approach to conservation. The Mbeli Bai Study has been running a conservation education program, "Club Ebobo" (Ebobo is the local name for gorilla), in local schools around the national park since 1998. Club Ebobo, which is receiving vital support from various North American zoos, has the objectives to teach the school children about the fauna and flora of the region's ecosystem, so that they appreciate and take pride in the biodiversity that exists in their region, and to promote the conservation and research activities undertaken within the Nouabalé-Ndoki National Park, within a population that would otherwise have very little contact with the protected area. Such changes in attitudes will discourage the trade in illegal bushmeat by reducing the likelihood that the current generation of schoolchildren will consume or trade bushmeat in the future.
Originally, researchers of the Mbeli Bai Study established Club Ebobo in Bomassa, the village near the park's headquarters (it is currently reaching around 100 children in Bomassa). Past experience in Bomassa has demonstrated that Club Ebobo's efforts have to stretch beyond the classroom, particularly when addressing issues such as risk of diseases through consumption of gorilla bushmeat, illegal hunting of protected species, and hunting with cable snares (which is illegal in Congo). In recent years we have continuously expanded this education activity to the east of the Nouabalé-Ndoki National Park, and Club Ebobo has reached the local town of Makao in 2005 (reaching around 80 children), and to the logging town of Thanry-Congo (reaching around 400 children). This region, once extremely remote and home to several different indigenous groups of hunter-gatherers, is now surrounded by logging concessions, and has undergone a complete demographic and economic transformation over the past years as a direct result of logging activities in the region. The implementation of Club Ebobo in Makao has resulted in the participation of many Bambenzele Pygmy children that formerly did not visit the school.
Club Ebobo sessions are typically held on a monthly basis by our Congolese research assistants together with the teachers of the three different primary schools. Sessions are held in French and in the local language Lingala, and classes which often contain more than 100 pupils are separated by age.
Activities of Club Ebobo are designed to encourage creativity amongst students rather then using the learning-by-rote system that is popular in Congo's schools. They involve fact sheets, songs and games (searches, "spot-the-difference" pictures and other worksheets, card games and role playing games), with animal puppets and tales of real-life experiences from the Mbeli Bai Study research staff, each based around a chosen theme (protected species, importance of rain forests, environmental issues…). We also use multi-media material (in collaboration with the <link http: www.incef.org _blank external-link-new-window>International Conservation and Education Fund) to show videos, PowerPoint presentations and photographs. We teach the local children about gorillas and their behaviour, and explain the importance of the research being conducted at Mbeli Bai with an emphasis on the importance of conserving wildlife and their habitat. Some sessions deal with more complicated matters, such as the complexities of the ecosystem and more complex conservation issues. This encourages children to see animals and the ecosystem as a complex and interesting web of interactions, rather than just a natural resource to be exploited. Basic school materials and T-shirts are provided to pupils and teachers.
To evaluate the impact of our education program Club Ebobo, we are performing evaluation schemes that aim to measure the success of our education program at three levels (increase of knowledge, changing attitude, changing behaviour). This approach will also be expanded including pre-post tests and comparison with schools that have not had visits by the Club Ebobo team.
In the past year the conservation group of the <link http: www.eva.mpg.de _blank external-link-new-window>Max Planck Institute for Evolutionary Anthropology has adopted Club Ebobo's aims with the establishment of a similar primary school education program, "Club P.A.N.", which is organized and implemented by the <link http: www.wildchimps.org _blank external-link-new-window>Wild Chimpanzee Foundation (with the help of the World Wildlife Fund) around the Taï National Park, Côte d'Ivoire. In particular we have developed an education book that is used at both sites and have developed standard evaluation sheets that aim to measure the success of our education programs, in particular regarding the increased level of knowledge of the children. Further efforts will be made to extend these evaluation schemes to address issues of attitude change and change in behaviour, particularly the reduction of bushmeat consumption.
Club Ebobo is also sharing our experience with additional conservation education projects within Western Equatorial Africa with the aim of establishing similar structures in as many sites as possible. Further, we are collaborating with North American zoos and Wild Research, a National Science Foundation-funded program whose stated mission is to deepen public engagement in science and conservation in North American zoos. Material produced by Wild Research will be available for use in Club Ebobo sessions. Collaborative efforts between different in-situ and zoo education programs will improve our ability to effectively address issues of gorilla conservation education and awareness campaigns. Such collaboration will allow us in the future to expand nature clubs, such as Club Ebobo, to the main town of bushmeat consumption in the region.
Thomas Breuer
Acknowledgement
My sincere thanks go to the Ministère de l'Économie Forestière et de l'Environnement for permission to work in the Nouabalé-Ndoki National Park, and to the staff of WCS's Congo Program for crucial logistical and administrative support. I thank all my research assistants that have helped in planning and preparing Club Ebobo sessions, in particular Franck Barrel Mavinga who is a fabulous entertainer and teacher for Club Ebobo. The long-term continuation of the Mbeli Bai Study and Club Ebobo would not have been possible without the continuous support provided by our long-term donors, notably the Brevard Zoo, Columbus Zoo and Aquarium, Cincinnati Zoo and Botanical Garden, Sea World & Busch Gardens Conservation Fund, Toronto Zoo, WCS and Woodland Park Zoo.