Two Infants within Two Years at Mount Tshiaberimu
Categories: Journal no. 64, Success Stories, Gorilla Groups, Democratic Republic of the Congo, Mt. Tshiaberimu, Grauer's Gorilla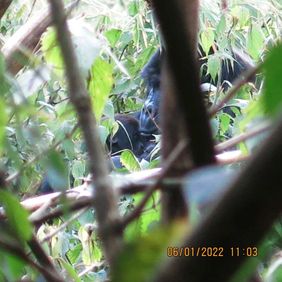 Mount Tshiaberimu (or Tshiabirimu) is located in the southern part of the Northern Sector of Virunga National Park. At the beginning of January 2020, the team working in this area noticed an infant gorilla and assumed that this baby was born at the end of December 2019 or start of January 2020. There was a dramatic decline in the gorilla population in this part of the park, from 14 gorillas in 2002 to just 5 in 2019. The team had already lost hope in the survival or recovery of gorillas in this sector of the park. The birth of this baby gorilla came as a surprise to the eco-guards, trackers and managers who decided to name it "Espoir" (Hope).
Brief History of Gorilla Births and Deaths at Mount Tshiaberimu
Six gorillas were born between 2002 and 2009. Between 2002 and 2004, 3 baby gorillas were born: Kambula (now called Mwengeshali) was born in 2002; Musanganya, who disappeared shortly after birth; and Mwasananyinya (now called Mwasa). Musondoli was born in 2006 but has since died, and Mwavita was born in 2007 but died during infancy after an interaction between gorillas. In 2009, the young 7-year-old gorilla, Mwengeshali, gave birth to a baby, whom she unfortunately bit to death (see Gorilla Journal 60 for more information).
Then for a period of 9 years, from 2009 to 2018, no further births were observed during gorilla monitoring at Mount Tshiaberimu. Instead, a drastic decrease in the number of gorillas was observed. In 2012, a family of 6 gorillas disappeared for a few months, and only 2 of them returned. By the end of 2012, 2 more gorillas disappeared, with only 7 individuals remaining at Mount Tshiaberimu.
The Bravery of the Trackers at Mount Tshiaberimu
Following the insecurity caused by Mai Mai militia, the Congolese Institute for the Conservation of Nature (Institut Congolais pour la Conservation de la Nature - ICCN) withdrew their staff at the end of 2016 and in 2017, and the gorilla trackers remained alone at the site. During this time, they only entered the forest occasionally, and were unable to go very far since they risked being captured or killed. The Mai Mai militia accused the trackers of being spies, reporting their positions to the military.
This situation lasted for 2 years. In 2016, a tracker was killed and another injured and hospitalized at Kyondo General Hospital. In 2017, the head tracker was attacked at home by armed men. He narrowly escaped, but was shot in the hand. The gorillas survived at Mount Tshiaberimu thanks to the presence of trackers during this period. A number of militia and politicians at this time pleaded for the remaining gorillas to be killed. These people believed that if there were no more gorillas, local communities could recover their land. This message became a political tool used by candidates to obtain votes in the election for the position of deputy.
Resumption of Activities by ICCN and Recent Gorilla Births
Monitoring activities resumed at the beginning of 2018, and in March and April, the trackers observed a baby gorilla and 6 other individuals - a total of 7 gorillas. However, this infant was not seen again after May 2018. The number of gorillas remained at 6 individuals until March 2019. In January and February 2019, several interactions between the gorilla groups took place, which may account for the disappearance of 2 gorillas, Mwasa and Kitawite. In April 2019, only Mwasa returned, hence only 5 gorillas remained.
The birth of a baby in late December 2019 or early January 2020 represented a major event for the conservation of Mount Tshiaberimu gorillas. This baby was loved by its mother, Mwengeshali, and the two dominant males. The baby was named Espoir, as a way of representing the hope for the survival of Mount Tshiaberimu gorillas. Indeed, a project aimed at strengthening and revitalizing this non-viable population of gorillas has been planned for several years, and we feared that the gorillas would die before the project could be implemented.
The growth or development of Espoir seems to differ from the usual development of Grauer's gorillas. Born in late December 2019 or early January 2020, the baby started walking alongside her mother after 7 months and was seen eating from the age of 11 months. This observation was made in the forest, where she was seen feeding on plants, while supplementing this with breast milk - and it may have done this before the age of 11 months. At one year and 2 months, in February 2021, the baby gorilla's droppings started to disappear from the adults' nests. In May 2021, four baby droppings were recorded there, zero droppings were found in June, and one baby gorilla dropping was observed in July 2021 in the male, Katsavara's, nest. Since then, no more baby droppings have been found in the adult nests. Interactions between the gorilla groups took place in March, April and May 2021. In May 2021, Espoir separated from the mother, and has since remained with the Katsavara family.
No one realised that Mwengeshali was pregnant again, but at the end of December 2021 she was seen with a very small baby. This was only 2 years after the birth of her baby Espoir. The number of gorillas at Mount Tshiaberimu is now 7. As gorillas can live for up to 50 years, we hope that Mwengashali can give birth to more babies, and that Ndekesiri and Mukokya, the other female gorillas of Mount Tshiaberimu, can also become mothers. We hope that the project to strengthen and revitalise the population of Grauer's gorillas will succeed in increasing the number of gorillas in this small and isolated population at Mount Tshiaberimu.
Claude Sikubwabo

The gorillas on Mt. Tshiaberimu
Katsavara family
Katsavara (male)
Mukokya (female)
Ndekesiri (female)
Espoir (female)
Mwasa family
Mwasa (male)
Mwengeshali (female)
baby Kavango