Tribute to Ymke Warren
Categories: Journal no. 41, Cameroon, Mountain Gorilla, Cross River Gorilla, Gorilla Journal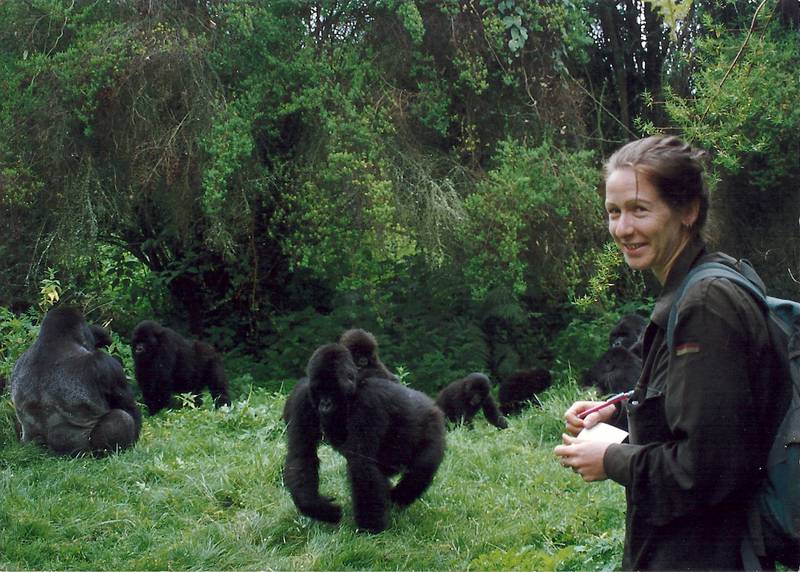 We are grateful for this opportunity to shed a little light on an exceptional life that was dedicated to the study and conservation of Africa's primates.
Ymke Warren obtained a degree in Zoology at King's College London in 1992, and followed that with work experience with the Gorilla Organization (then Dian Fossey Gorilla Fund Europe) in the UK. Ymke's first taste of African primate conservation was field work with chimpanzees in the Bwindi Impenetrable Forest in Uganda. Her growing interest in mountain gorillas then led to a research position at the Karisoke Research Centre in Rwanda in 1994.
Despite the terrible ordeals of that period, Ymke's work with the mountain gorillas in Rwanda between 1994 and 1999 was definitely the highlight of her short life. Ymke discovered what would be a life-long passion for behavioural ecology, excelled in adapting to tough field conditions and forged friendships that won her the respect of all of those she worked with, especially the dedicated Rwandese gorilla trackers and guides.
Ymke was inevitably deeply awed and inspired by contributing to the long-term study of the famous mountain gorillas. Examples of some of the contributions she made in this respect are papers on the carriage of a dead infant by a female gorilla, and observations related to a "super-group" of more than 60 gorillas, a unique and puzzling Rwandese habituated mountain gorilla group.
Ymke was passionate about the wellbeing of the mountain gorillas as well as those who cared for them. She bore the incisor wounds inflicted by one particular silverback, Shinda, on both sides of one thigh, an injury she accepted as a fair price for removing a wire snare that was in the path of a young gorilla, not knowing how the protective and vigilant Shinda would react.
Her response to the 1994 genocide in Rwanda was typically to do all that she could to protect the gorillas and the national staff she was working with. Hair raising, and rarely shared stories of fleeing to the Zaire border and returning shortly afterwards to search the high mountain slopes for the gorillas and among the detention facilities for her colleagues affirm her deeply caring and committed nature.
Having returned from Rwanda in 1999, Ymke's strong academic drive and desire for self-improvement resulted in her enrolling in a Masters programme in Human Evolution and Behaviour at University College London. Ymke made use of data she had collected in Rwanda, and in the opinion of Volker Sommer was a model student, achieving the highest marks. After completing her Masters in 2000, Ymke won a PhD scholarship at Roehampton University under Caroline Ross. Her study involved the arduous task of habituating and then studying two groups of olive baboons, one crop-raiding group and one non-crop-raiding group. Her research demonstrated the influence of ecological conditions on social and reproductive strategies.
I met Ymke while she was completing her fieldwork in Gashaka-Gumti National Park in Nigeria having been recruited as a Project Manager for WWF in the same park. It was immediately clear that Ymke was a unique-blend - someone passionate about their work and doing things with a high level of precision and organization; a true champion of nature; deeply caring and funny, while at the same time never putting to one side her own ideals and values. Ymke's return to the UK to write-up played a part in also bringing to a close my 8-year Nigerian stint and heralded a short period in our lives when we were both in the UK, building our relationship around weekends in London. Ymke completed her PhD in 2003 on the topic of: "Olive Baboons (Papio cynocephalus anubis): Behaviour, Ecology and Human Conflict in Gashaka Gumti National Park, Nigeria".
While we were in the UK, I was offered a job managing a private nature reserve and Ymke made the brave decision to move with me to Namibia, not a country generally famed for its primates! Over the following 3-4 years we adjusted to desert life and got increasingly involved with the Namibian conservation scene. Ymke's adaptability was shown through her initially undertaking research on the Hartmann's mountain zebra, then initiating a project to study the black mongoose, Namibia's largest endemic carnivore, and later she was offered a position as a Post-doctoral Research Fellow with Pretoria University studying alloparental care amongst Cape ground squirrels.
Our move from Namibia to Cameroon in 2003 was largely unplanned, we both applied for an interesting position with the Wildlife Conservation Society managing a project to conserve the critically endangered Cross River gorilla. I was lucky to be offered the position, and in hindsight that was probably for the best as the job involved more office-based management, meetings etc. that would have driven my better half mad with frustration. Instead, Ymke was able to draw on her wealth of primate-related field experience and academic know-how in order to establish a well thought-out and effective research and monitoring programme to further guide Cross River gorilla conservation.
Working with colleagues around the world, Ymke built the capacity of a number of national staff, visiting students, researchers and government counterparts. She played a crucial role in developing rigorous yet simple field research and monitoring protocols that will be valuable for years to come. Many positive knock-on effects resulted, including the creation of a stronger knowledge base on which conservation actions could be carefully planned, and increased donor confidence in our projects work. With the creation of protected areas such as the Kagwene Gorilla Sanctuary and Takamanda National Park, nearly 60% of Cross River gorillas are under some form of protection today, a far cry from the situation 10 years ago.
It goes without saying that everyone who worked with Ymke gained in some way, and time will show how her patient mentoring and quiet leadership will act to shape the lives of a number of promising young African conservation professionals across the continent, all of whom owe a great debt to her.
Ymke set her goals high in all aspects of her life. When not looking for ways to develop herself, she could be found climbing the highest peaks in Africa - even managing Margherita Peak in the Ruwenzoris, Mount Kenya and Kilimanjaro (Africa's three highest peaks) in 5 weeks at the beginning of 2010 to raise money for gorilla conservation - despite having next to no climbing experience. Even after nearly 10 years together, Ymke continued to surprise me, in terms of her knowledge, her no-nonsense take on life and her mental and physical strength.
A few words can never serve to capture the impact one individual has had in terms of their life's work, nor the role that person has played in each of our lives. Personal testimonies on the 4Apes website confirm this, and present additional heartfelt insights into an incredible woman.
For many of us, Ymke's murder at our home in Cameroon, 3 weeks after her 40th birthday is particularly painful to bear and difficult to adjust to. It is important that we understand the exact circumstances surrounding what happened and a number of authorities in the UK and Cameroon are currently assisting with that process.
The gorillas of Rwanda and Cameroon are unaware of the loss that they are also bearing. It is up to the rest of us to ensure that the gains Ymke paid for most dearly are not squandered. To help achieve this, a fund has been established in Ymke's memory to generate an annual award for promising young African primatologists. To achieve this we need to raise £ 25,000. Please visit the fund's website.
Ymke, we love and miss you so very much.

Aaron Nicholas