The Work of Art of Conservation
Categories: Journal no. 47, Protective Measures, People & Gorillas, Rwanda, Volcano National Park, Gorilla Journal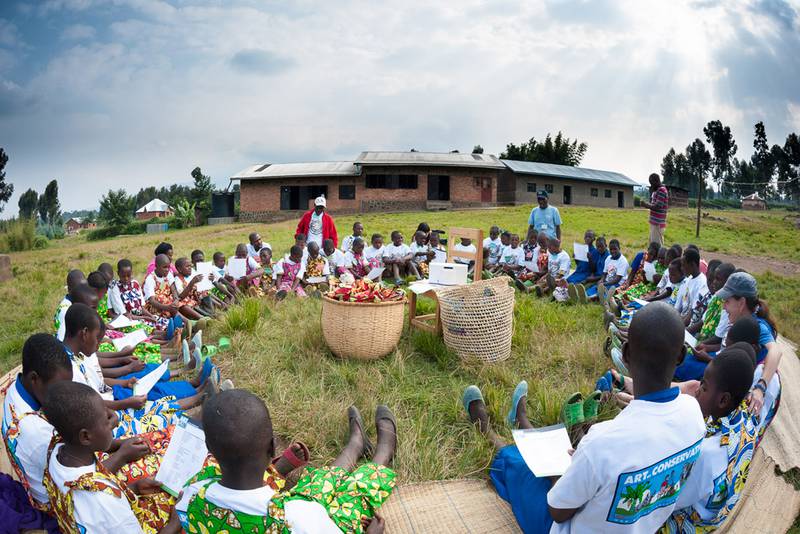 Art of Conservation (AoC) is pleased to celebrate our first 7 years of successful creative learning and community development programs about biodiversity with a one-health focus, as well as announce the launch of the Rwanda-based Conservation Heritage - Turambe (CHT). CHT promotes one-health conservation, which focuses on overall human health, animal health, and ecosystem health through education and empowerment to communities bordering Rwanda's Volcanoes National Park.
CHT will build on 7 years of successful efforts by AoC in promoting one-health conservation in Rwanda, which simultaneously improves the health of humans, wildlife, and ecosystems. By helping to launch and providing ongoing support to CHT, AoC has ensured that locally led conservation successes can continue to grow, while proving our model and providing the opportunity for AoC to expand one-health conservation to new locations.
During AoC's 7 years in Rwanda, we were able to share thousands of hours of one-health programming and activities with local school children as well as the broader community surrounding Volcanoes National Park. These lessons involved critical thinking and creative learning to give students opportunities for hands-on learning. Programs included themes of personal hygiene and health, sustainable ways of interacting with the local environment (e.g. tree planting), and introduction to native animal species (e.g. mountain gorilla). Other activities included beautification of public spaces (e.g. painting informative murals), tennis tournaments, 3K Gorilla Fun Runs, and open houses. All programming (in-school and otherwise) included local teachers and AoC's Rwandan staff so that they were effectively trained and thus able to carry on the one-health message themselves. The creation of CHT demonstrates the effectiveness of AoC's training methods.
"The creation of CHT is incredibly exciting," says Julie Ghrist, AoC Founder and Program Director, "when we launched our Rwandan program 7 years ago, we hoped to engage children in conservation, for the benefit of the mountain gorillas as well as for them, their communities, and the environment. We are so pleased to be able to leave a legacy in Rwanda and AoC will help support the work of the new CHT organization as it develops."
The name "Turambe," in Kinyarwanda means, "let us be sustainable," and this transition to local leadership alongside AoC's expansion signifies how sustainable our approach to one-health conservation has been. Sustainability has been a focus of AoC's programming while in Rwanda and included locally-based programs such as the installation of 10,000 liter capacity rain water collection tanks at several schools as well as the Save the Forest Briquette Initiative which worked with local communities to combat deforestation for charcoal.
According to the leaders of CHT, their key objective is to conduct conservation and health programs for local people in communities bordering Volcanoes National Park, home to the Critically Endangered mountain gorilla. CHT staff has had over 6 years of intensive training, and they are excited as Rwandans to promote their own locally based conservation initiatives. Quoting the CHT team, "After following the Art of Conservation 'Code of Conduct' and principles, we understand the significance of sharing, learning and continuing important and inspiring work that has so evidently affected our community and country. Art of Conservation's work deserves to be perpetuated through our local organization. We owe it to our community and ourselves since we love the work we do!"
Art of Conservation has helped bring together entire communities in order to raise awareness that individual and community health and sustainability have a direct impact on the surrounding environment. AoC's unique approach uses the arts and creative learning to awaken, engage, and empower children about their health, the health of their environment and wildlife around them. AoC facilitates learning through creative expression, combining science-based lesson plans with visual art, poetry, song, dance, and sports. Our work is done in collaboration with other socially responsible partners, including conservationists, educators, and health professionals, all of whom AoC is extremely thankful for. Since its inception in 2006, AoC has engaged in conservation and health education with thousands of Rwandan children.
As part of our one-health approach to conservation, AoC promotes sustainability in everything we do. A key element to sustainability is ensuring that our model may be carried on by the local population, which is why we are so excited and grateful for CHT's decision to carry on this critical work with the communities in Rwanda's Volcanoes National Park. In doing so, CHT helps prove the long-term sustainability of our model, furthering our commitment to expanding our program globally.
AoC's Executive Team is actively researching potential locations and partners. "Our art-inspired lesson plans, activities, and leadership development programs have universal application," says Allison Hanes, Executive Director. "We are very grateful to all who supported our efforts in Rwanda and look forward to expanding AoC programs worldwide. Currently, we are investigating new opportunities to advance one-health conservation in Guyana, Panama, and Honduras. AoC is extremely proud of the accomplishments of the communities surrounding Volcanoes National Park, and is extremely grateful for all of their work in ensuring a healthy and sustainable environment for the mountain gorillas!"
Allison C. Hanes