The Economic Value of Virunga Park
Categories: Journal no. 47, Threats, Mining for mineral resources, Conflicts, Democratic Republic of the Congo, Virunga National Park, Gorilla Journal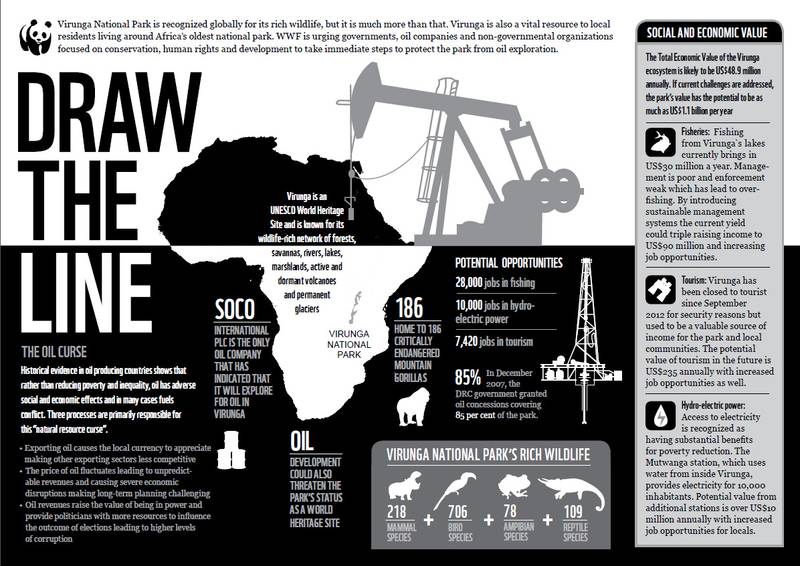 In response to the granting of oil concessions in Virunga National Park (Virunga) in the Democratic Republic of the Congo (DRC), WWF launched a campaign to raise awareness of Virunga's economic value and the implications of oil development for local communities and the environment. As part of the campaign, WWF commissioned Dalberg Global Development Advisors to study Virunga's current and potential social and economic value and to indicate the implications of oil exploration and exploitation.
Located in eastern DRC, Virunga is Africa's oldest national park. One of DRC's five United Nations Educational, Scientific and Cultural Organization (UNESCO) World Heritage Sites, the park is known for its wildlife-rich network of forests, savannas, rivers, lakes, marshlands, active and dormant volcanoes and permanent glaciers. It is also famous for being home to about 200 critically endangered mountain gorillas.
In December 2007, the DRC government granted oil concessions covering 85% of the park. To date, SOCO International PLC (SOCO) is the only oil company that has indicated that it will explore for oil within park boundaries. Despite DRC's law prohibiting environmentally harmful activities in protected areas, SOCO's exploration licence exploits an exemption in that law that allows for "scientific activities" in protected areas. SOCO's oil concession covers the Lake Edward, source of fish and income for 27,000 fishermen and home to endangered hippos.
Plans to develop oil expose the social and economic value of the park to risks, the likelihood and impact of which is demonstrated by cases such as the Bas Congo and Niger Delta. These risks include the following:
Exploration activities, such as seismic surveys and exploratory drilling, have localized environmental impacts. Infrastructure requires clearance of vegetation and often leads to the development of illegal human settlements along access routes. This can set a precedent for activities that threaten conservation, and lead to the introduction of invasive plants, fragmentation of natural habitats, and an increased likelihood of poaching, which threatens the survival of local species.
Exploitation in an area prone to conflict and lacking systematic government legislation and enforcement would make pollution-free extraction extremely difficult, if not impossible to guarantee. The longer the pipeline and the more remote the location, the more difficult ensuring pipeline maintenance and protection becomes. Further, drilling close to Virunga's eight volcanoes poses risks to the size and frequency of eruptions.
Pollution from oil extraction is likely because minimum requirements for pollution-free drilling, such as pipeline maintenance and protection from sabotage, cannot be met in a conflict-prone area. Additionally, oil extraction is likely to fuel further conflict over resources and to hinder pollution mitigation efforts. Environmental degradation and human rights abuse can result from pollution.
Economic and social development could be impacted negatively due to the "oil curse" - a phenomenon resulting from oil exports. Under the oil curse, the source country's currency appreciates causing a decline in the competitiveness of existing export sectors, oil price volatility destabilizes government revenues prohibiting long-term planning, and large cash flows increase the risk of misallocated resources. In the case of the Niger Delta, poverty and inequality indicators have worsened since the discovery of oil.
Oil development could also threaten the park's status as a World Heritage Site, which if lost, could in turn have negative effects on the value of the park. In the current situation, Virunga's value is approximately US$ 48.9 million per year. In a stable situation characterized by the absence of conflict, secure access to the park, and sufficient resources to protect the ecosystem, the park could increase in value to more than US$ 1.1 billion per year. The value of the park may be far higher if additional factors were to be taken into consideration.
DRC is not only home to Virunga, Africa's most biodiverse park, but also contains four other World Heritage Sites recognized for their outstanding natural value, as well as a variety of other national parks. These protected areas represent a long-term source of income if managed sustainably. Virunga alone has the potential to provide for the livelihoods of 45,000 people through the provision of job opportunities.
It is a unique place on Earth that we must all fight to protect. WWF thus launched a global campaign and calls for support from the international community to help 'Draw The Line' and keep oil exploration out of Africa's oldest national park. Every name helps to show governments and businesses how strongly people feel about protecting precious places like Virunga.
Please, help us fight for the protection of the Virunga National Park!
WWF