The Dream of the Forest
Categories: Gorilla Journal, Journal no. 54, Behaviour, Zoos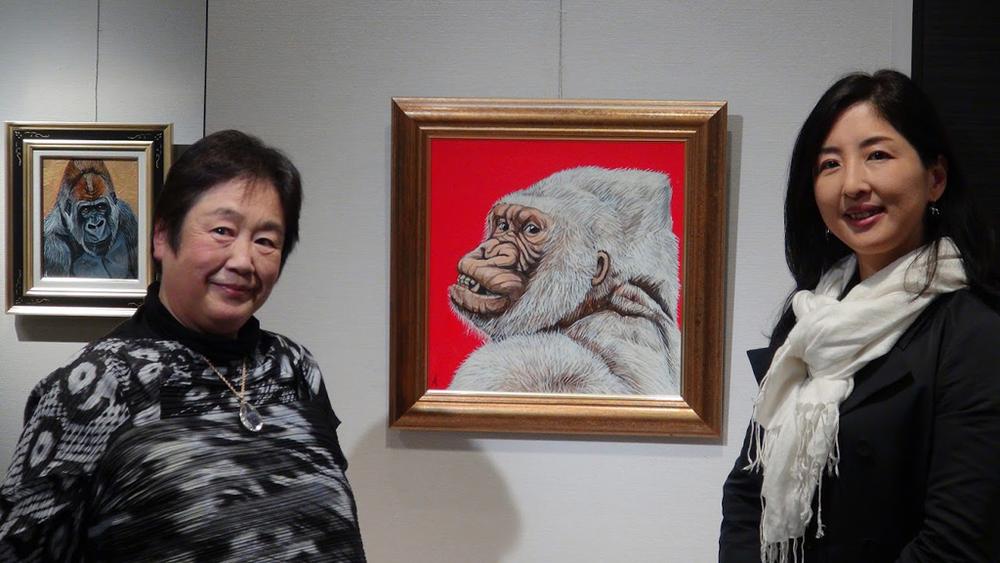 Chisato Abe's exhibition of paintings of gorillas called "The Dream of Forest" was held at the Art Gallery located in the newly opened mega-department store, Daimaru Tokyo, in Japan from 30 November to 6 December 2016.
Chisato Abe is an artist who has specialized in gorillas for about 35 years. Her drawings were the result of her detailed observations of over 800 attractive gorillas and their family histories. These deeply felt and lovingly presented drawings went beyond the classical image of gorillas, showing adoring eyes cast at the family members and even visitors. The largest and most eye-catching of the paintings was a portrait of a silverback gorilla, Haoko, and his daughters Komomo and Momoka in the Ueno zoo, oil on canvas, 162 by 162 cm with silver background. Visitors enjoyed the portraits of Colo, who passed away at age 60 in January in the Columbus Zoo, Kifu likes a prince in Howletts, the Jambo family in Apenheul, baby Aliki and meerkats in Artis, curious Bokito with red peppers and a cat, lovely Koko and her kitten, Kibabu in Taronga Zoo and his sons Haoko and Shabani on loan to Japan, and also eastern lowland gorillas, one of the world's 25 most endangered primates 2014-2016: Mushamuka and his family in the Kahuzi-Biega National Park of the Democratic Republic of the Congo.
On 2 December, the traditional Japanese wrestler (Likishi) Tosa-Yutaka visited the gallery with his wife. He was called "Gori-chain" by his fans, dressed in a traditional decorative costume with a gorilla face with open mouth on red background for ceremonies, and is now retired and re-named Ajikawa-Oyakata (Master). He loves gorillas, and always visited the silverback Taro in the Japan Monkey Center before his matches in Nagoya to pray for good results. Master Ajikawa visited the Japan Monkey Center to introduce his wife to Taro in July 2016. He received one of Chisato's gorilla drawings as a memento of his retirement. Chisato was excited to shake hands with him, and even forgot to take a photo with him!
Chisato said that seeing the gorillas all over the world is the most wonderful event for her, so she would like to keep on drawing gorillas long into the future.
Miki Matsubara