Second Gorillas Across Africa Workshop
Categories: Journal no. 46, Protective Measures, Gorilla Journal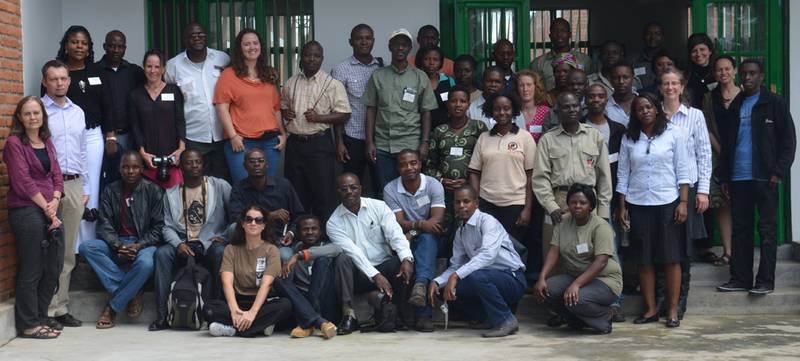 Following a successful first edition of the Gorillas Across Africa Workshop in Uganda in 2011, a second workshop was organized in 2012 by the Max Planck Institute for Evolutionary Bio­logy, North Carolina Zoo, Cleveland Metro­parks Zoo/Cleveland Zoological Society, the Columbus Zoo, the Mountain Gorilla Veterinary Project, and the Dian Fossey Gorilla Fund Inter­national. The workshop was hosted at the Dian Fossey Gorilla Fund's Regional Research Center in Musanze, Rwanda from November 7 to 11, 2012.
All 4 subspecies of gorilla are endangered throughout their range due to poaching, habitat loss and fragmentation, and disease. Gorilla conservationists face a variety of challenges, some shared and some regionally specific. However, there are few opportunities for sharing yet unpublished research on gorilla behaviour and ecology as well as regional conservation practices that could inform gorilla conservation strategies across Africa. The Gorillas Across Africa Workshop was conceived as an opportunity for gorilla researchers and conservationists from all gorilla range countries to convene with the goal of exchanging technical information, methods, ideas, and knowledge as well as to develop relationships and professional networks within the gorilla conservation community.
The workshop brought together both established and early career scientists and conservationists, but focused especially on presenting the early career scientists and conservationists with a rare opportunity to network with their colleagues. Representatives from 8 out of the 10 gorilla range countries, including Cameroon, Central African Republic, Democratic Republic of the Congo, Republic of Congo, Gabon, Nigeria, Rwanda and Uganda attended the 2012 workshop, and specialists in all 4 subspecies of gorilla were represented. The attendance of a scientist from Central African Republic was particularly exciting, as the country had not been represented at the 2011 workshop. The 4-day workshop was comprised of presentations given by participants on topics ranging from current research to park management, veterinary medicine, community programs, conservation education, and law enforcement and was augmented by group discussions and field visits. Workshop participants were challenged to present both their successes and failures as learning opportunities and to consider how these might inform future conservation strategies.
Following 2 days of presentations, participants remarked on specific topics that surprised them most. Among those mentioned were the undefined taxonomy of Ebo gorillas, gorilla reintroductions in Congo, lack of political support for conservation in some countries, the fact that fewer tourists visit western gorillas than mountain gorillas, the power of an inter-disciplinary approach to wildlife conservation in general and gorilla conservation in particular, the link between effective gorilla conservation and the welfare of communities living around gorilla sites, the benefit of a well-developed tourism industry to gorilla conservation, and local participation in programs designed to minimize human/wildlife conflict. In particular, the difficulties of working in isolated and difficult terrain, barriers to effective monitoring of law-enforcement staff, levels of rural poverty, high demand for bushmeat, trophy hunting and use of animal parts for traditional medicine, the trans-boundary nature of most gorilla sites in Africa, and human conflicts came across as some of the major challenges to law-enforcement aspects of gorilla conservation programs.
Some workshop participants were particularly impressed by the success of conservation education, community programs and community participation in wildlife management, the development of a guns-for-snails program in Nigeria which has successfully reduced poaching, and Rwanda's revenue sharing initiative.
The dire situations of gorilla populations in some countries, like Democratic Republic of the Congo, which was in the midst of rising conflict during the time of the workshop, nevertheless inspired participants with the commitment and tenacity of conservationists working in these regions.
In addition to presentation and discussion groups, participants were invited for several field visits. Among the sites visited were the Mountain Gorilla Skeletal Project, Art of Conservation, Mountain Gorilla Veterinary Project, an exhibition of the IGCP household rainwater harvesting demo tank, the Bisate Health Clinic and Bisate School supported by the Dian Fossey Gorilla Fund, and several projects implemented by the Rwanda Development Board (in charge of national park management) including an artisan project, a village constructed with revenue from a local tourist lodge, and the Kinigi Cultural Center. These field visits afforded the opportunity for participants to see firsthand the community and education initiatives being implemented in the Volcanoes National Park region of Rwanda as well as to interface with local staff about their methods and facilities and the challenges and successes faced by their programs. Participants were also treated to a visit to habituated mountain gorilla groups in Volcanoes National Park. This was a particularly exciting experience for some of the participants from West Africa, where there are few habituated groups, and many of the researchers have seen only the briefest glimpses of gorillas in the wild. The goal of the visit was to observe how gorilla tourism benefits conservation efforts and the research advantages afforded by such close, daily observation as well as to understand the risks and challenges introduced by tourism.
Among the recommendations and strategies agreed upon at the workshop as paramount for gorilla conservation efforts across all range countries were:
Taking into consideration the needs of local people and incorporating them into conservation strategies, including the implementation of poverty reduction and family planning projects around protected areas.

Effective collaboration and communication between governments, NGOs, and other conservation stakeholders

Attitudes towards gorilla conservation and culture vary in locations where gorillas occur and must be considered and addressed as part of conservation strategies.

Participation of government stakeholders in gorilla conservation at workshops like Gorillas Across Africa improves the overall experience and impact of these events.

There is a need for conservation education in city schools in addition to local schools to respond to pressures placed by cities on rural communities surrounding conservation sites and to communicate how rural communities often act as liaisons between wildlife and city demands.

Information and resource sharing among international gorilla conservation programs, particularly with more developed projects helping less developed ones, should be improved.

The creation of a formalized network of African gorilla conservationists for data and practice sharing, communication and decision-making would be beneficial.
In its second year, the Gorillas Across Africa Workshop continued to establish itself as a crucial resource for the gorilla research and conservation community. It improved its reach with the addition of Central African Republic to the list of participants, and has shown its efficacy as a networking opportunity through the continued communication between workshop participants since November 2012.
Felix Ndagijimana, Celestine Mengnjo, Eni Kuchambi Indah, Franck Barrel Mavinga, Natacha Nssi Bengone and Terence Fuh Neba