Inspiring the Next Generation
Categories: Journal no. 64, People & Gorillas, Schools, Democratic Republic of the Congo, Tayna, Grauer's Gorilla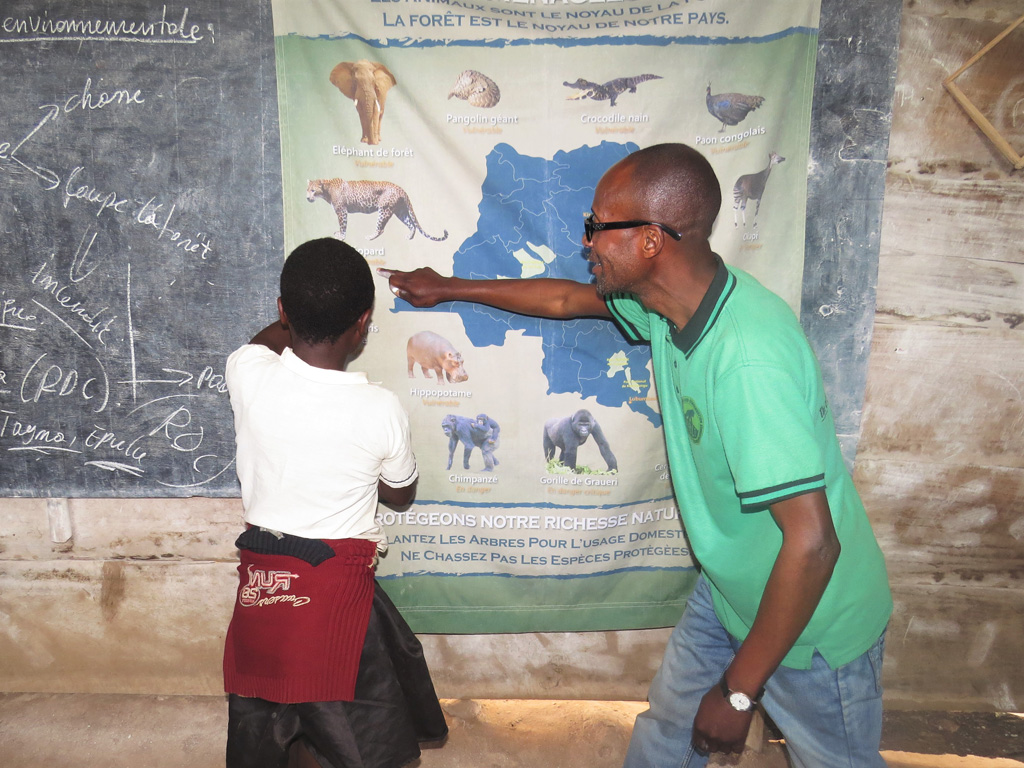 "What makes gorillas special?" It is a question each of us could answer in our own unique way. For some, it's the gorillas' gentle nature and human-like faces. For others, it's their superb intelligence and complex social bonds. But for children in Eastern Democratic Republic of the Congo, it's a question that will spark the beginning of an interactive learning experience they won't soon forget.
The Gorilla Rehabilitation and Conservation Education (GRACE) Center is located adjacent to the Tayna Nature Reserve (Tayna for short) in Lubero Territory, North Kivu. Tayna is a community managed reserve, home to a large swath of forest that makes up part of the Congo Basin. This biodiversity hotspot is home to endangered and endemic species, including eastern chimpanzees, African gray parrots, African golden cats, owl-faced monkeys, L'Hoest's monkeys, pangolins, and Grauer's gorillas. The people of Tayna have lived in harmony with nature and these forests for generations. More recently, they have also stepped up to protect it. By donating the land on which GRACE was built and helping to conduct the first ever great ape census in the region, communities near GRACE are making a difference. They are leaving a legacy for the next generation.
It is this next generation that GRACE seeks to inspire. GRACE is proud to employ a talented team of Conservation Educators who are collaborating with local schools to deliver programming for students in Primary Grades 3 and 6. After a three-year hiatus on in-person programming due to Ebola and COVID-19, the GRACE Education team relaunched our Primary 6 program last fall. This spring, we began a brand-new program for students in Primary 3. These programs were created in partnership with expert Education Advisors from Disney's Animal Kingdom. The intention is to build pride, foster empathy, increase knowledge, change attitudes, and inspire conservation action.
The GRACE Educators are trained in interpretive methods. They deliver these lessons in an interactive way that encourages self-discovery, student participation and self-reflection. All of the education materials are made from durable, weather-proof fabric or PVC board that can be transported between sites. Materials are created in a variety of languages and delivered by the GRACE Educators in the language that best suits each audience. For each program, GRACE Educators conduct pre/post evaluations to assess changes in students' knowledge, attitudes and behaviours.
Primary 3 Program: Connecting Children with Animals
The Primary 3 program is designed for young learners. Through a series of three visits, GRACE Educators introduce students to the animal world. They learn that all animals need food, water, and shelter to survive; they discuss the important bonds a baby gorilla has with its mother; and they complete an interactive tree puzzle to learn what children and their families can do to help protect wildlife. The interactive tree puzzle includes actions such as learning more about animals, telling friends what they have learned, and planting trees. The students enjoy placing the puzzle pieces on the tree to build a complete picture. Together, they learn that simple choices can grow into more significant actions that help people and wildlife!
Engaging with Primary 3 students is incredibly important. Studies have shown that connecting children to nature at an early age, and sharing with them the wonder of the natural world, leads to environmentally conscious adults. This year, GRACE Educators have connected 781 students in 9 Primary schools to the world of animals, gorillas, and conservation. Pre- and post-evaluation data are still being analysed, but GRACE Educators report that the lessons were popular with students and teachers alike. Students from one primary school were so inspired that they even made their own drama about why they like gorillas, based on information they learned from GRACE Educators!
Primary 6 Program: Celebrating the Animals of D. R. Congo
Each fall, in alignment with school curriculum, students in Primary 6 also receive three visits from our GRACE Educators. These advanced lessons begin with a session on gorilla adaptations, including physical and behavioural traits that help gorillas survive in the forest.
Next, GRACE Educators teach students about the classification of primates, including similarities and differences between monkeys and apes. To foster empathy and build pride, students also learn about the unique wildlife of the Democratic Republic of the Congo, including endemic species such as Congolese peafowl, bonobos, okapi and Grauer's gorillas.
Students conclude their visits with an interactive lesson on how human actions impact the forest. Using a large, illustrated banner, GRACE Educators ask students to identify human actions that can pose challenges for wildlife (examples include poaching, cutting down trees, and littering). Students are given cards with examples of positive alternative actions to address each threat (raising livestock for protein, creating a woodlot, properly disposing of litter, and more). As each threat is discussed, students work to determine if their action card addresses that specific threat. If so, they place it on the banner. When all pieces are placed, the new illustration shows people and wildlife coexisting together near the forest.
Analyses of pre- and post-evaluation data is ongoing, but initial results show a change in knowledge as a result of these visits. Notably, 73 % of students reported that okapi are only found in D. R. Congo (compared to 38 % on the pre-evaluation); 80 % reported that gorillas care for their babies (up from 50 % on the pre-evaluation); and 74 % reported that Great Apes do not have tails (23 % on the pre-evaluation). For many students in D. R. Congo, Primary 6 is the last grade they attend, so participating in this program offers students an incentive to remain in school and enhances their knowledge in preparation for national exams. In 2021, GRACE Educators taught 267 Primary 6 students at 8 schools.
In total, GRACE Educators have brought conservation education to over 900 students in Kasugho and Katoyo since fall 2021. Thanks to our dedicated team of educators, that's 900 more young people who can answer the question, "What makes gorillas special?" So, while GRACE works to inspire the next generation, we are inspired too. This group of smart, enthusiastic, and dedicated students are already changing our world.
Laurie Cummins, Honoré Kambale Masumbuko, Guy Simisi Mumbere and Kambale Kamaliro Josias