GRACE Forest Enclosure
Categories: Journal no. 50, People & Gorillas, Democratic Republic of the Congo, Grauer's Gorilla, Gorilla Journal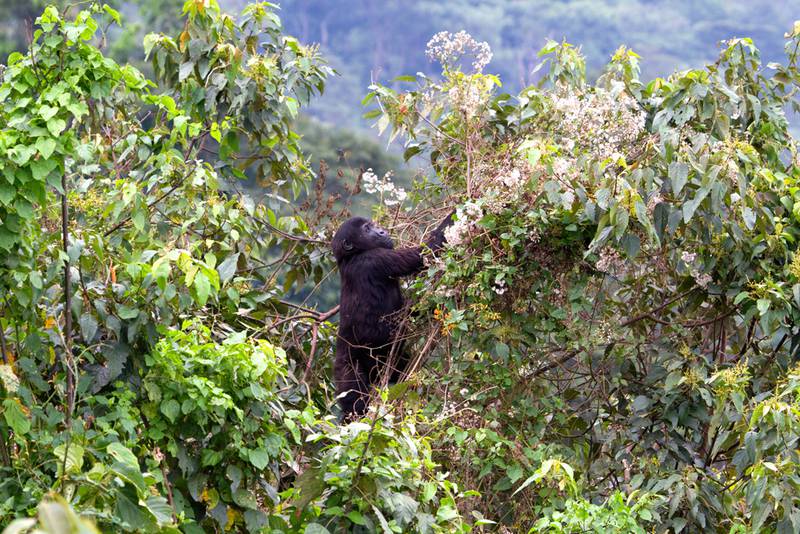 Located in the Kasugho region of North Kivu, eastern Democratic Republic of the Congo (DRC), near the Tayna Nature Reserve, the Gorilla Rehabilitation and Conservation Education (GRACE) Center is the world's only facility providing rehabilitative care for Grauer's gorillas (Gorilla beringei graueri) rescued by wildlife authorities after being illegally captured by poachers and traders. GRACE's primary mission is to provide a safe, naturalistic environment and excellent care for rescued gorillas to ensure their welfare and to maximize their chances for successful reintroduction, if that conservation strategy is pursued.
GRACE received its first gorillas in 2010 and is currently home to 13 individuals, ranging in age from 3 to 13 years. The gorillas, all orphans, are managed in a single integrated social group, with the older females acting as surrogate mothers for the younger individuals. Around 90% of the gorillas' diet consists of plants (over 45 species) that gorillas typically eat in the wild. Until recently, over 300 kg of vegetation was collected each day by GRACE staff for the gorillas. However, now the gorillas are able to forage on their own inside a newly built forest enclosure that recently opened at GRACE.
As part of its master plan, in February 2012, GRACE began building a 10-hectare enclosure for the gorillas in a forested area on the GRACE property. This new space, which includes mature trees as well as dense undergrowth, provides the gorillas with a more wild-like environment for them to practice survival-critical skills such as foraging, nest building, and coordinating group movements.
Though an ideal forest was identified for the enclosure, GRACE's remote, mountainous location made construction a very large challenge. Without access roads available at the construction site, every piece of equipment and material used had to be carried up the mountain by hand. More than 200 people from local communities - over half of them women - worked with GRACE on building the forest enclosure. Workers cleared forest for the fence perimeter, dug holes into rock for the placement of 370 fence posts, and strung over 26 km of wire for the solar-powered electric fencing. Gorilla experts from the Dallas and Houston Zoos and Disney's Animal Kingdom in the United States were consulted on the enclosure's design, but the entire project was managed by GRACE's Congolese staff, led by Jackson Kabuyaya Mbeke (GRACE Center Manager) and George Kayisavira Kakule (Facility Coordinator). The project was funded by long-term GRACE partners the Dian Fossey Gorilla Fund International and Dallas and Houston Zoos as well as by a grant from the Margot Marsh Biodiversity Foundation.
After several starts and stops due to logistical challenges, the GRACE gorilla forest enclosure was finally completed in February 2015. Following final safety checks, the doors were opened for the gorillas in March 2015. The GRACE gorillas had not been in a forest in years. For some of them, it was their first forest experience since being captured from the wild. It was unclear how the group would react to their new surroundings, but upon entering the enclosure, the gorillas - led by the group's dominant female, 13-year-old Pinga - immediately began feeding on vegetation and calmly exploring the forest. Within minutes, the younger gorillas were climbing and playing in trees like they had never left their forest home. The GRACE group now spends over 8 hours each day inside this new habitat, and they are adjusting wonderfully to forest life.
To scientifically assess how the gorillas are adapting to their new environment as well as to track general rehabilitation progress for all individuals, GRACE recently launched a behavioural monitoring program. A research team observes the gorillas throughout the day from five towers situated around the enclosure's perimeter. The goal is to track how the group is using the forest and how this new space is impacting individual behaviour and group dynamics.
GRACE's other main mission is to work with local communities on conservation education programs to help protect the remaining wild Grauer's gorillas, the only great ape endemic to eastern DRC. Most people living in the Kasugho region have never seen a live gorilla and know little about these animals, making it difficult to ensure compliance with laws protecting gorillas. The new gorilla forest enclosure will play an important role in GRACE's educational efforts. Local schoolchildren and adults will soon be able to visit GRACE on educational tours and view the gorilla group from a platform outside the enclosure. Our visitor program will aim to teach about Grauer's gorillas and the threats they face and instill pride in visitors for having this magnificent great ape as part of eastern DRC's natural heritage.
GRACE's new forest enclosure is a source of pride for the GRACE staff and the local community, and we hope this habitat helps prepare the gorillas for potentially returning to the wild. In the meantime, it is wonderful to observe the GRACE group having fun in a space that allows them to truly be gorillas again.
Sonya Kahlenberg and Luitzen Santman
For more information about GRACE, please visit <link http: www.gracegorillas.org external-link-new-window external link in new>www.gracegorillas.org or follow us on Facebook.