COVID-19 and Gorilla Doctors
Categories: Journal no. 60, Gorilla Journal, Tourism, Diseases, Protective Measures, People & Gorillas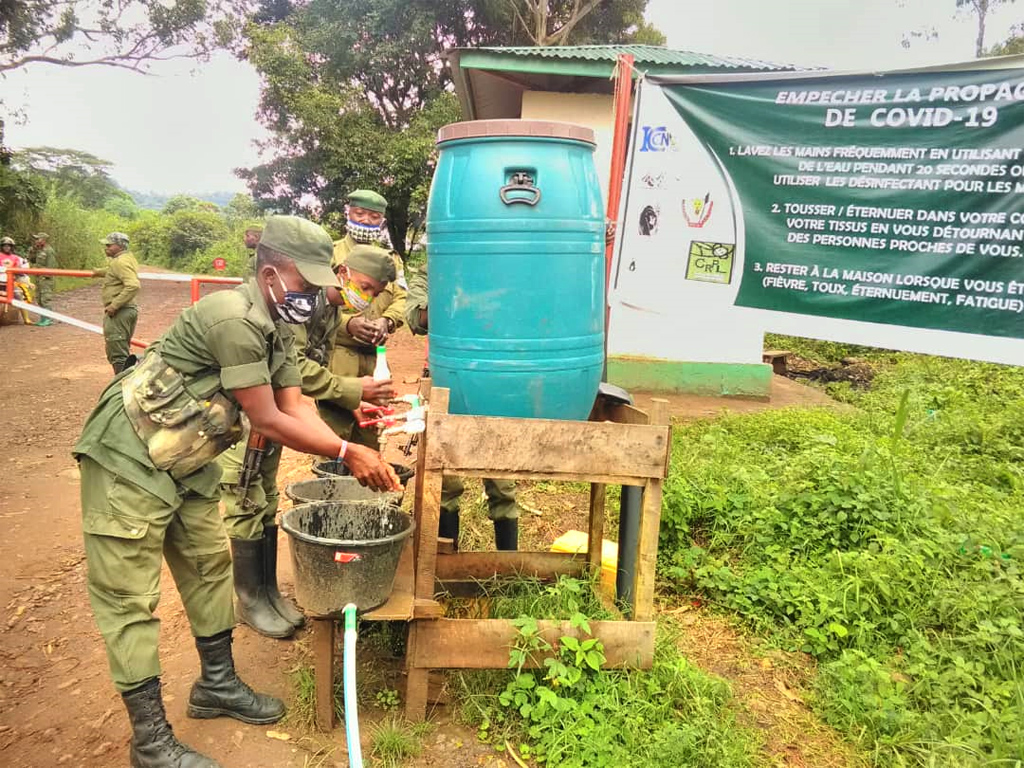 The World Health Organization (WHO) declared COVID-19 a pandemic on March 11, 2020. Never before have we understood the concept of One Health more than we do today, as we face the COVID-19 pandemic as a global community. While we don't yet have proof, it is likely that SARS CoV-2, the virus causing the COVID-19 disease, emerged from an animal host and spilled over to infect humans. We are living a One Health moment - seeing what can happen when humans and animals interact in a shared environment in unsustainable ways with devastating consequences.
The One Health Institute, Gorilla Doctors' administrative home at the UC Davis School of Veterinary Medicine, has been at the forefront of international surveillance and research on the very factors that have led to this moment in which we now find ourselves - facing the reality of the intersections among wildlife, people and the emerging pathogens that can lead to life-altering changes for people and the world. A new study published by the Institute's EpiCenter for Disease Dynamics found that habitat loss, human exploitation of wildlife and species extinction are directly connected to the increased risk of disease emergence, and that emergence is occurring at a more rapid rate than ever before.
For the past 10 years (2009-2019), the One Health Institute led the USAID Emerging Pandemic Threats PREDICT project to identify and detect viruses carried by wildlife that could pose a risk to human health, and to recommend measures to reduce spillover. Gorilla Doctors was the implementing partner in Rwanda, Uganda and eastern Domocratic Republic of the Congo. A team led by our Head Veterinarians (Julius Nziza, Eddy Kambale Syaluha and Benard Ssebide) collected and tested samples from more than 7,000 people and wild animals. With our laboratory partners, we detected more than 80 viruses (both novel and known) in the three countries, including several novel coronaviruses (SARS CoV-2 was not one of the coronaviruses detected in this region).PREDICT was launched to address the increasing threat of disease emergence from global hotspots - highly biodiverse regions where there is a significant risk of zoonotic spillover from wildlife. Equatorial Africa is one of these hotspots where human populations are dense and growing, there is significant species diversity and a high degree of human-animal interaction, all of which combine to increase the risk of viral spillover.
To date, we do not know if SARS CoV-2 infections have occurred in human-habituated eastern gorillas (mountain and Grauer's) or other great apes in the region. We do know that great apes, including gorillas, are susceptible to human respiratory pathogensand that respiratory illnesses regularly occur in mountain gorillas. When a gorilla is sick, our veterinarians collect diagnostic samples (fresh feces) to be screened for multiple pathogens, including the new SARS CoV-2 virus.
Rwanda, Uganda and DR Congo have all temporarily suspended gorilla tourism and severely restricted access to the parks. Park staff and Gorilla Doctors' veterinarians have implemented these additional protective measures:
All park staff must wear masks during health checks (Gorilla Doctors' veterinarians have always worn masks when close to the gorillas).
Daily temperature checks of people before entering the park.
Maintaining a minimum distance of 10 m (the distance Gorilla Doctors always practiced during health checks and monitoring visits whenever possible).
Hand-washing and the use of hand sanitizer.
Boot disinfection.
In addition to helping enforce these safety measures, we are working with our government partners to keep the number of people coming into close daily proximity of the gorillas to the essential minimum to ensure their safety and protection.
Gorilla Doctors' mission - conserving wild mountain and Grauer's gorillas using life-saving veterinary medicine, science and a One Health approach - is at the forefront of global wildlife conservation. Despite the current pandemic, I am hopeful and confident that Gorilla Doctors' One Health approach - understanding the intrinsic connectedness among wildlife, humans and the environments we all share - will ultimately provide the very solutions we need to prevent future outbreaks.
Kirsten Gilardi
What Does It Mean?
SARS CoV-2: The name of the virus. When the SARS CoV-2 virus infects a human, the disease it causes is called COVID-19. A person tests positive for SARS CoV-2, not COVID-19.
SARS:S = Severe; A = Acute R = Respiratory; S = Syndrome. SARS CoV-2 is classified as SARS because it is genetically related to SARS CoV-1 from 2003.
COVID-19:CO = corona; VI = virus; D = disease; 19 = 2019, the year the virus emerged.
Pathogen: A bacterium, virus or other microorganism (e.g. fungus) that can cause disease.
Zoonotic disease: Disease in humans caused by a pathogen that originated in animals.
Spillover: When a pathogen 'jumps' from animals to humans. While still not proven, SARS CoV-2 is a likely example of zoonotic spillover.
Emerging Infectious Disease: When a pathogen appears in humans or other animals for the first time and causes disease - it emerges from a new source, to infect humans or animals and cause disease.