Strengthened Human-Wildlife Conflict Measures Restore Hope in the Virungas
Categories: Journal no. 62, Conflicts, People & Gorillas, Democratic Republic of the Congo, Rwanda, Uganda, Virunga National Park, Mikeno, Mgahinga, Volcano National Park, Mountain Gorilla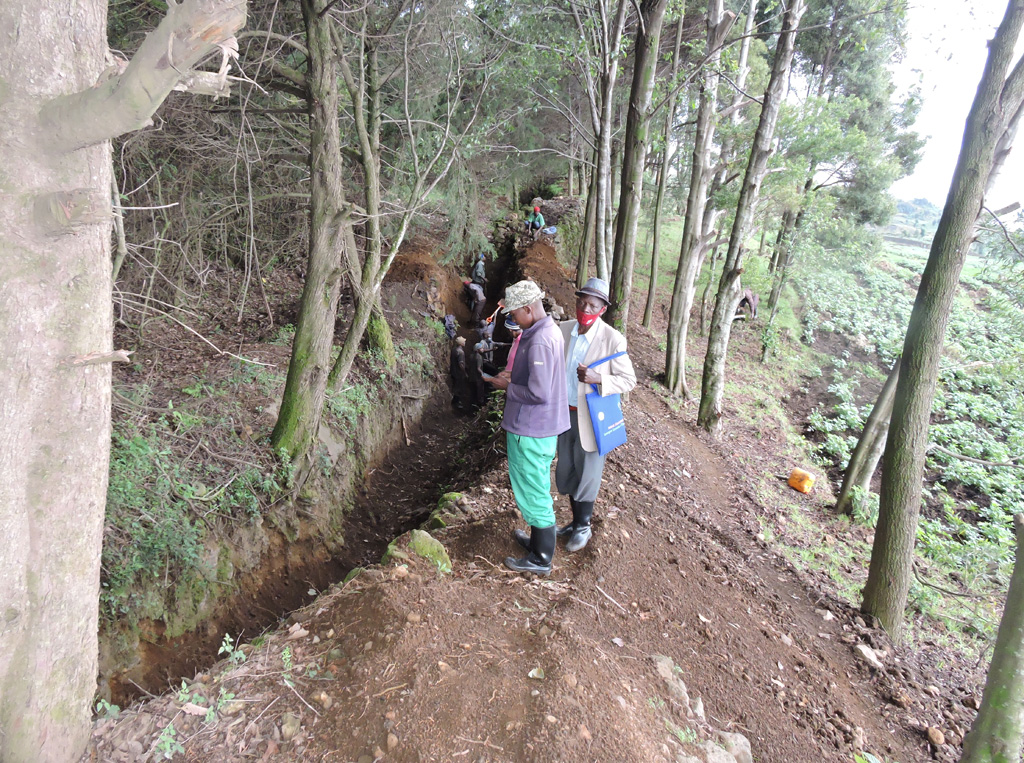 Regardless of the scotching sun and laborious work, a delighted face is the perfect description of Jean Bosco Ntawukibiwabo, as he works on a 3 m deep trench at the boundary of Volcanoes National Park in Bugeshi sector, Rubavu district. The trench is an extension of the buffalo wall built around the Volcanoes National Park perimeter to prevent problem animals, especially buffalos, from crossing over to neighbouring gardens to raid crops. Bugeshi sector is a transboundary area adjacent to both Volcanoes National Park in Rwanda and Virunga National Park in the Democratic Republic of the Congo. Just like other park-edge communities, the community in Bugeshi is challenged by problem animals. However, human-wildlife measures such as the trench and buffalo wall are helping to address the conflict.
"I wouldn't know the right words to describe how much this trench has contributed to better harvest and household income. With the trench in place our crops are now safe from problem animals that used to destroy them," narrates Jean Bosco. Jean Bosco recalls the ordeal of having to invest in farming but yielding almost nothing. Several years back, buffalos raided and destroyed his Irish potato farm; where he expected a harvest of one and a half tonnes, Jean Bosco only harvested 500 kg which could not even sustain his family.
Inaugurated in 2004 by IGCP (International Gorilla Conservation Programme) in collaboration with park staff and local communities, the 1 m high and 76 km long dry-stone buffalo wall was established to address Human-Wildlife Conflict (HWC) in the area. Currently IGCP is working with transboundary local communities in Bugeshi area and Cyanika in Musanze District to renovate 7 km of the buffalo wall and trench to ensure that the HWC gains are sustained. The trench has been increased in length to between 2.5 and 3 m in depth to minimise any chance of buffalos crossing over from the park into the neighbouring gardens.
The buffalo wall and trench maintenance work was done by members of the local community working under 14 conservation cooperatives at a small fee. Members of the cooperatives reveal that the wages earned from this work enabled them to meet the basic needs of their families, especially food. "Every worker earned Rwf 1500 per day. This money helped most of us to take care of their essentials including paying for community-based health insurance, renovation of pit latrines and food among others," says Venuste Ndacayisenga, a member of a Land conservation cooperative (KOSUBU).
To ensure its effectiveness, the trench is routinely maintained by the community members during their monthly communal work, locally known as Umuganda. Regular maintenance helps to monitor and patch possible animal escape points usually created by the heavy rains and floods.
Commenting on the relevance of the existing Human-Wildlife Conflict measures to the community, Jean Bosco notes that the local communities are grateful to IGCP and the park for their effort in addressing HWC in the area. Jean Bosco adds that several people who had lost hope in farming have since been motivated afresh to farm even closer to the park boundary and are optimistic for better yields.
Talking with the community members of Bugeshi, it is clear that the buffalo wall and trench have played a key role in managing problem animals, minimising crop raiding incidences, increasing crop yields and repairing park-community relations.
Meanwhile, the Virunga National Park in collaboration with the park-edge communities in transboundary areas of Kibumba in Congo and Bugeshi in Rwanda successfully erected an electric fence to enforce Human-Wildlife Conflict management. The 2.5 m high fence will cover 3.5 km along the Virunga National Park perimeter and serve as a barrier against problem animals. The erected fence is an extension of the existing 100 km electric fence around Virunga National Park.
In a related development, about 38,100 Erythrina trees have been planted along the stone wall in Mgahinga Gorilla National Park stretching from Rwanda to the DRC border points, covering a stretch of 12.7 km.
The actions that were spearheaded by IGCP's Water4Virungas project in collaboration with the local communities and Uganda Wildlife Authority were aimed at preventing problem animals like buffalos from raiding crops in neighbouring farms, reducing conflict and improving park-community relations in the area.
About 40 community members participated in the planting of Erythrina and the renovation of the stone wall. Each member earned about 11,200,000 Uganda Shillings that enabled them to meet personal and household needs.
Planted on both sides of the stone wall, Erythrina helps in strengthening the stone wall and filling up escape points for problem animals from the park to neighbouring gardens. Additionally, another 1.2 km of the current 12.7 km stone wall was also renovated and strengthened with cement and sand.
"With such HWC management initiatives in place and continued community involvement in conservation works, ownership of established measures will be strengthened, Human-Wildlife Conflict reduced and park-community relations will gradually improve, allowing for peaceful co-existence" says Benjamin Mugabukomeye, IGCP Rwanda Country Coordinator.
Liliane Nakayima