Memories - Working with Two Mountain Gorillas in the Cologne Zoo
Categories: Gorilla Journal, Journal no. 56, Zoos, Rwanda, Volcano National Park, Mountain Gorilla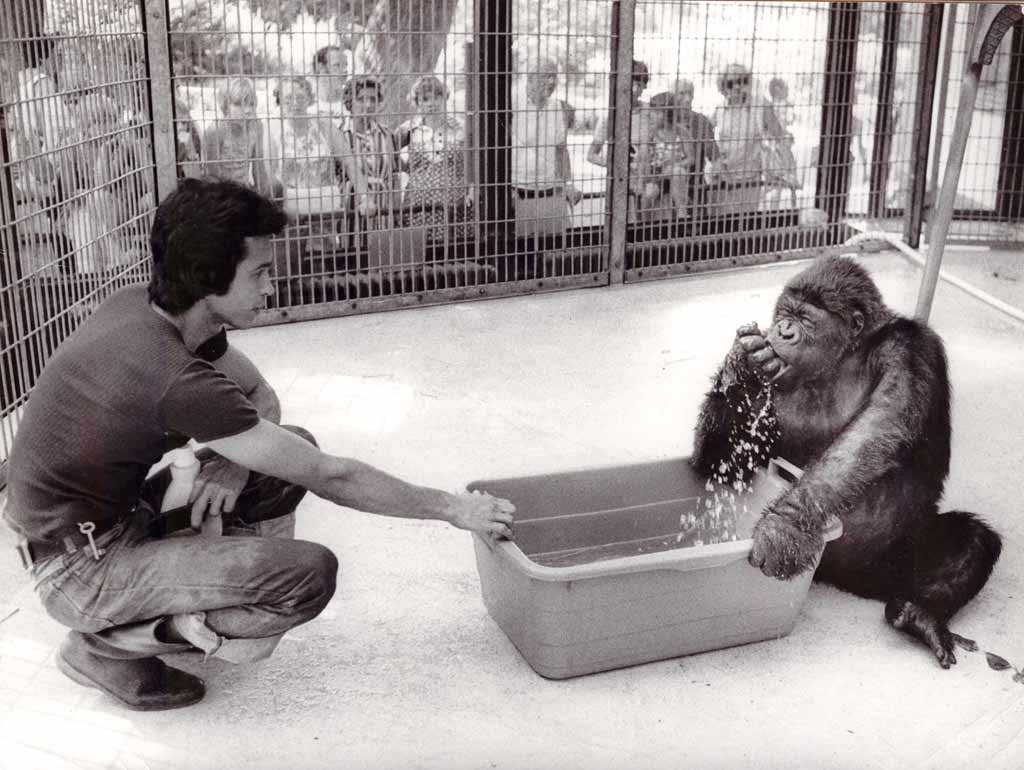 The two mountain gorillas from the Virunga Mountains in Rwanda, Coco and Pucker, arrived in the Cologne Zoo in May 1969. At that time it was a very controversial theme worldwide. Coco and Pucker were a present from the Rwandan government to the mayor of Cologne, Theo Burauen. The Cologne Zoo was the only zoo in the world at that time to display mountain gorillas. They were given as a pair to breed, unfortunately they turned out to be two females.
I was fortunate to work as a keeper with Coco and Pucker from 1973 to 1978. During the summer I took them out for walks. I remember they loved to climb the beech tree opposite the zoo director's house. On top of the tree they built themselves sleeping nests. Every time I pass this tree during my walks through the zoo today, I think of Coco and Pucker. They were very playful.
Gorillas prefer varied diets and have individual preferences for food. Since we did not have the same food as in the wild, we supplemented their food with celery, onions, broccoli, other vegetables, bamboo shoots and wheat sprouts. Celery, both sticks and root, and fresh spinach leaves were their favourite food.
Coco and Pucker had an occasional cold or diarrhoea but nothing serious. In March 1978 Pucker showed signs of discomfort and did not have an appetite. In spite of the consultation of a paediatrician and immediate treatment she died a few days later. Coco had the same symptoms and died several weeks later (on 1 June). They both died of a bacterial infection. The post mortem results showed symptoms of a defect in the immune systems (hereditary or acquired) of both mountain gorillas which might have been the reason why the treatment with antibiotics etc. failed.
I remember Coco and Pucker as very gentle apes and it was great fun to work with them.
Brian Batstone