Photos of Hope from Tayna Nature Reserve
Categories: Journal no. 64, Censuses, Democratic Republic of the Congo, Tayna, Grauer's Gorilla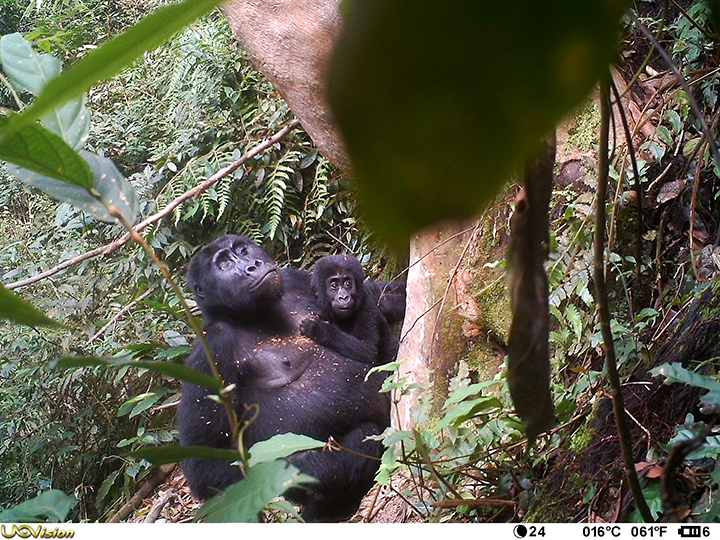 In last December's issue of the Gorilla Journal, the Gorilla Rehabilitation and Conservation Education (GRACE) Center was thrilled to share our results from the first-ever Great Ape census in Tayna Nature Reserve. The survey, which took 70 days to complete, confirmed the presence of eastern chimpanzees and Grauer's gorillas in Tayna - a promising result for these endangered species!
This was just the beginning of GRACE's monitoring efforts. GRACE is committed to working hand in hand with communities and the local management authority, Réserve des Gorilles des Tayna (RGT). Together, we are making ongoing efforts to record and better understand the wildlife of Tayna Nature ­Reserve.
Recently, GRACE sent survey teams back into Tayna to learn more about its incredible wildlife (this region is a biodiversity hotspot). These survey teams have been monitoring gorilla populations continuously for over 100 days. As an added part of our monitoring and protection efforts, GRACE partnered with Wildlife Protection Solutions to place trail cameras throughout Tayna Nature Reserve.
Soon after installation, these trail cameras began to provide a rare glimpse into the lives of Tayna's animal residents. Chimpanzees, owl-faced monkeys, colobus monkeys, forest squirrels, black-fronted duiker, several unidentified bird species, an African golden cat, and Grauer's gorillas have all been caught on camera.
Even more special, one series of photos captured a mother Grauer's gorilla with her young infant, a first for Tayna! In addition to providing valuable scientific insight, these photos are offering a glimpse of hope for the conservation of species in D. R. Congo.
Katie Fawcett, Jackson Kabuyaya Mbeke, Benezeth Kambale Visando and Damien Caillaud