New Exhibition by Chisato Abe
Categories: Gorilla Journal, Journal no. 57, Other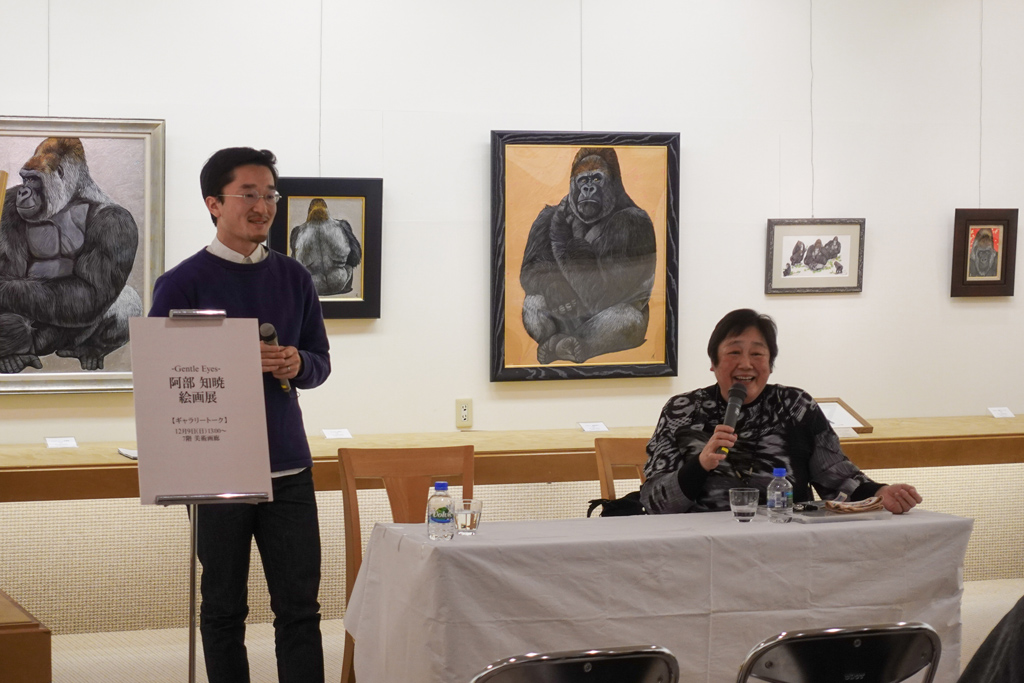 During 5 to 11 December 2018, Japanese artist Chisato Abe organized her solo exhibition at the exhibition hall of KOBE DAIMARU, a department store in Kobe city, Japan. Chisato is a well-known artist, who has been painting only gorillas for more than 35 years. She has travelled around the world just to see gorillas and painted gorillas' beautiful portraits as well as the gorillas' world. Not only gorilla lovers, but also non-gorilla lovers have been attracted by her amazing, heartwarming works. I am one of those people. When I was young, I read her picture books many times and dreamed to jump into the gorillas' world someday.
About 40 works including gorillas in several zoos as well as gorillas in Bwindi Impenetrable National Park (BINP) were exhibited. One of the main works in this exhibition was 63.8 x 63.8 inch sized portrait of the late great silverback Kanyonyi. In June 2017, Chisato travelled in Uganda and tracked Mubare group in BINP. She had already visited mountain gorillas (Gorilla beringei beringei) in DRC and Rwanda, but it was her first time to see mountain gorillas in BINP. After two and a half hours of massage on a stretcher (called African helicopter locally), she met Kanyonyi. She was really impressed by the warm and gentle atmosphere in the group. Gorillas in Mubare group including infants were really relaxed being with Kanyonyi. He was a dominant silverback loved by his family members, many tourists, UWA park staffs, researchers and even community people living around BINP. Unfortunately, he got injured in early September after falling down from a tree and eventually passed away at the age of 21 on 9 December 2017.
On 9 October 2018, a talk event was held at the exhibition hall. Chisato Abe told her exciting experiences including some funny stories in BINP. Especially the story of the great moment Chisato spent with gorillas of Mubare group captured the hearts of the audience. Ryoma Otsuka (the author) added how Kanyonyi lived and died after Chisato left Bwindi. Chisato also highlighted that how she was lucky and how much Kanyonyi had been loved by many people. She said:
"I was really lucky and happy that I could see Kanyonyi only about 6 months before he passed away. During our visit, he posed like a model in front of me. What made me surprise was that trackers and community people were loving Kanyonyi so much."
After the talk event, participants enjoyed talking with Chisato in person and they seemed really interested in visiting the gorillas' world in BINP. During 7 days, many people of all ages, from children to the elderly, visited the exhibition and enjoyed her amazing works.
Ryoma Otsuka