A Tribute to Colo
Categories: Gorilla Journal, Journal no. 54, Zoos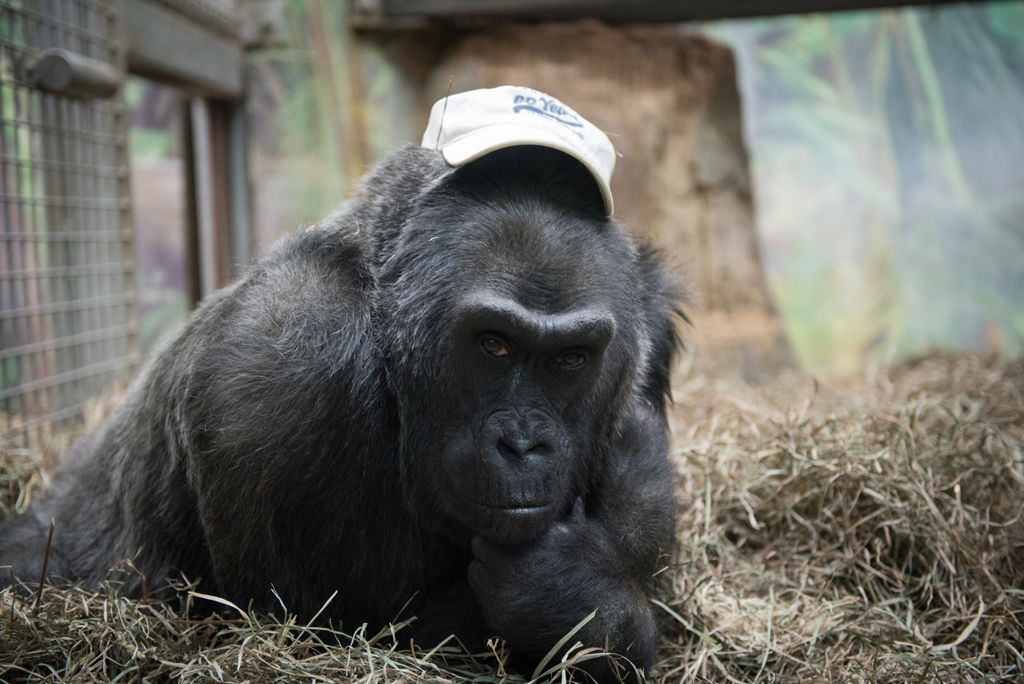 On 22 December 1956, the Columbus Zoo made history with the birth of the first zoo-born gorilla. Eventually named Colo in honor of her birthplace, this 3 ¼-pound baby sent a wave of excitement through the zoological community. Over a million visitors came to see Colo during her first year and many more followed her story through daily updates in the New York Times. Her story was featured in both Life and Time magazines. During the first years of Colo's life she was dressed in frilly outfits with hats and treated like a princess. Though she spent most of her time in a nursery that had been built especially for her, she was taken over to the main gorilla enclosure for visits with her parents. In 1958 Colo was paired with a 19-month-old (estimated) wild-born male named Bongo.
Colo and Bongo became parents on 1 February 1968 with the birth of a baby girl. The pair produced two more offspring together, before losing interest in breeding. Although she was not allowed to rear any of her offspring, Colo exhibited excellent maternal skills towards her granddaughter, Cora. She officially became a surrogate mother in 1987 when she raised Macombo II and Mosuba, the first gorilla twins to be born in the western hemisphere. Colo also acted as a surrogate for her grandson, named J. J. after Columbus' own Jungle Jack, the former director of the Columbus Zoo, as they share the same birthday. Although Colo had never had experience carrying an infant on her back, she allowed J. J. to climb on her and she carried him around the habitat. Colo equally enjoyed her role as a great-grandmother and was regularly seen caring for her great-grandsons, often carrying them into and from the outdoor habitat each day.
After many years of group life, in her mid-40s, Colo chose to leave group life behind by seperating herself. She was kept next to her "chosen group" and enjoyed interacting with them through the barriers, often adding her voice to their disputes and even sharing items with her great-granddaughter. Over the years she would enjoy occasional visits from her daughter Toni and a male named Mumbah, but she was happiest to spend her time alone. Colo adored her keepers and regularly instructed them in the proper ways to do things. She also thoroughly enjoyed interacting with the visitors and would strut back and forth modeling her latest baseball cap for them.
Colo lived well beyond the median life expectancy for a female gorilla, turning 60 years old in 2016. The zoo celebrated the occasion with a birthday party in her honor highlighted by many celebrity tributes. She currently holds the world record as the longest lived gorilla. After a full day delighting her visitors, Colo passed away peacefully in her sleep on 17 January. Her legacy lives on through her three children, 16 grandchildren, 12 great-grandchildren, four great-great-grandchildren and millions of fans. Her life helped to educate people about the struggles gorillas are facing in range countries and the actions we can take to help. She was an amazing ambassador for her species and friend to her keepers. Her impact will continue to be felt by those who knew her best.
Audra Meinelt