The Itombwe Forest is now Protected
Categories: Protective Measures, Democratic Republic of the Congo, Itombwe, Grauer's Gorilla, Success Stories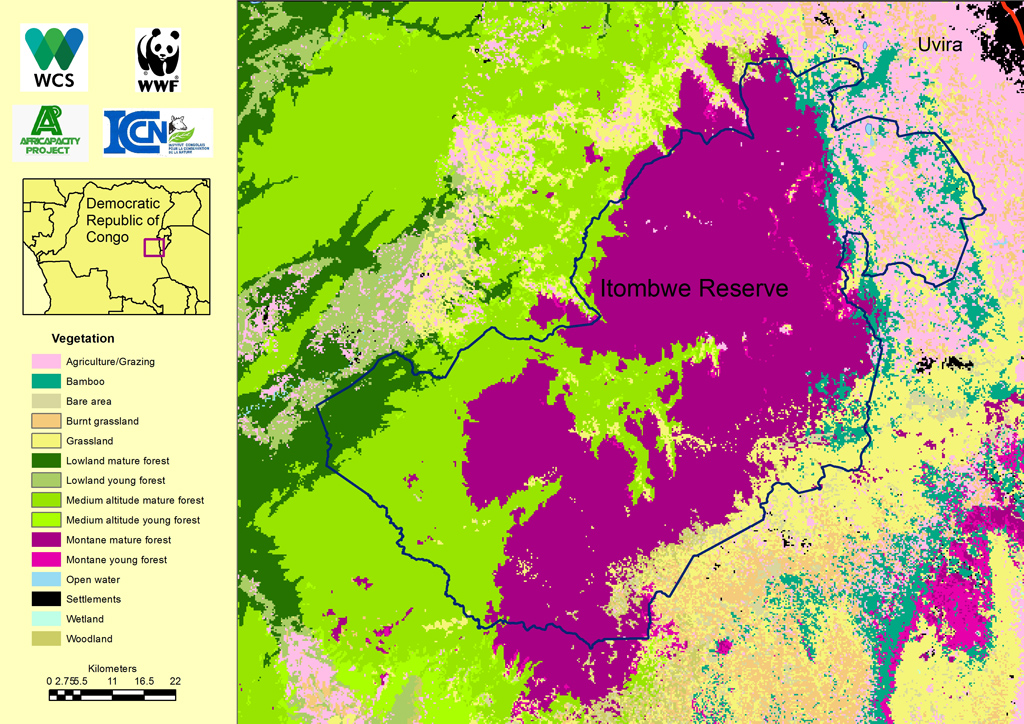 The Itombwe Reserve's boundaries were formally approved by Provincial decree in the Democratic Republic of the Congo, a significant step towards effective protection of this important site. Itombwe protects several unique species that only occur in Itombwe as well as an important population of Grauer's gorillas (Gorilla beringei graueri) their conservation was the reason for the establishment of the reserve.
The Itombwe massif is one of the most biodiverse sites in Africa and to date 756 terrestrial vertebrates and 1,036 plant species have been documented. The site has only been visited a few times by scientists and it is likely many more species will be found in the future. Several species found only in Itombwe, such as the Itombwe Golden Frog (Chrysobatrachus cupreonitens), the Itombwe or Prigogine's nightjar (Caprimulgus prigoginei) and Schouteden's swift (Schoutedenapus schoutedeni). At least 53 threatened species are found in Itombwe.
The Itombwe Reserve (Réserve Naturelle d'Itombwe) was legally gazetted by a Ministerial decree in 2006, but it had no clear boundaries and local communities living there were not consulted. In the meantime, several organisations and institutions conducted a consent-based consultation process with local communities in and around the new reserve. This led to locally-approved boundaries of the area measuring 5,732 square kilometers. The Provincial Governor of South Kivu, Marcellin Cishambo Ruhoya and the Executive Director of the Congolese National Parks Authority (ICCN), Cosma Wilungula, signed the formal agreement with community representatives and the NGOs who had been involved in the process present to witness the signing.
From a WCS Press Release, 23 June 2016
New: Grauer's gorilla was re-classified by IUCN and is now in the highest category for threatened species - "critically endangered". More here.