Thanks to everybody who supports us!
Category: Organisation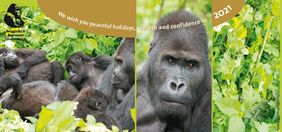 We are very grateful to you all for your invaluable support! Our Congolese assistant Claude Sikubwabo asked us to forward his thanks too:
"Thank you greatly for your dedication to the search and mobilization of funds for the safeguard of gorillas and their habitats as well as for the development and support of communities. I would ask you please to present the thanks of the communities and the pride of ICCN for this support to donors."
We want to continue our work in 2021 and hope that you will support our efforts.
The Board of Directors of Berggorilla & Regenwald Direkthilfe